Volansi, a Silicon Valley-based drone maker, and Sierra Nevada Corporation (SNC) announced Thursday they have teamed to offer a proposal for the Army's effort to find an enduring Shadow drone replacement.
The two companies submitted a white paper for the Future Tactical Unmanned Aircraft System (FTUAS) Increment 2 program, which Volansi said was approved by the Army allowing the team to officially propose their advanced UAS solution.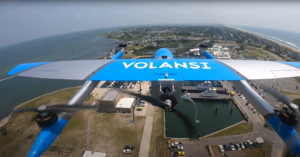 "Our white paper was evaluated and found technically acceptable by the Aviation Missile Technology Consortium and we are poised to submit a proposal that meets the Army's requirements for FTUAS," John Steen, director of defense for Volansi Global Services, said in a statement to Defense Daily. "We are proposing a fully militarized tactical FTUAS system that exceeds all program management Unmanned Aircraft Systems threshold and objective criteria by offering superior payload and performance capacity to give the warfighter the ISR and forward tactical resupply capability it needs in a single revolutionary multi-role UAS."
The FTUAS program includes an Increment 1 to rapidly field a Shadow drone replacement to eight Brigade Combat Teams to meet an operational needs statement, while Increment 2 will have a competitive prototyping effort to find an enduring solution for the objective program of record.
In mid-August, the Army signed off on the Abbreviated Capability Development Document (A-CDD) for FTUAS after evaluating the following four platforms to inform requirements: Martin UAV's V-Bat, Textron's [TXT] AAI Corp.'s Aerosonde, L3Harris Technologies' [LHX] FVR-90, and Aerovironment's [AVAV] Arcturus JUMP 20 (Defense Daily, Aug. 16).
Then this fall, the Army solicited white papers for both FTUAS Increment 1 and 2, with plans to award a rapid fielding deal for Increment 1 and prototyping awards Increment 2 in fiscal year 2022.
Volansi and SNC said their offering for an enduring FTUAS solution is based on the former's commercial unmanned aircraft design and the latter's "turnkey Intelligence, Surveillance, Reconnaissance (ISR) integration."
"Volansi's VTOL aircraft only require a small operational footprint, eliminating the need for runways, catapults, or infrastructure and can operate in challenging terrain and contested environments," Volansi wrote in a statement.
Will Roper, Volansi's CEO, previously served as the Air Force's top acquisition official before joining the company's board in March and then being named the chief executive in July.
The company has said Roper's expertise will "benefit the company in forming a strategy on which military missions to pursue and delivering approved military drone technologies to the civilian world" (Defense Daily, March 5).
"We are proud to be a part of this Army effort," Roper said in a statement. "Combining the best know-how of highly reputable defense companies, like Sierra Nevada Corporation, with a Silicon Valley-based startup is an innovation formula I encouraged while in government. It unlocks the full potential of the U.S. industrial base for our warfighters."