The Marine Corps has placed its latest order for the new AN/TPS-80 Ground/Air Task-Oriented Radar (G/ATOR) system, the Pentagon announced Wednesday, awarding Northrop Grumman [NOC] $245.8 million for eight more radars.
The latest full-rate production order brings the total value of G/ATOR production up to $963.2 million, according to the Pentagon.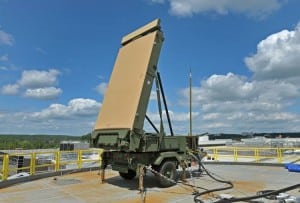 Work on the new deal to deliver the advanced, multi-mission 360-degree Active Electronically Scanned Array (AESA) G/ATOR radars is expected to be completed by January 2025.
G/ATOR is designed to better defend against a growing array of short and medium range threats, including cruise missiles and rockets.
Northrop Grumman announced in September it had delivered the 15th radar to the Marine Corps, officially completing the program's low-rate initial production phase (Defense Daily, Sept. 3).
The Marine Corps on December 16 conducted a successful live fire test of its Medium Range Intercept Capability prototype, which involves integrating G/ATOR and the Common Aviation Command and Control System with Israel's Iron Dome mini-Battle Management Control components and Tamir interceptor missile (Defense Daily, Dec. 21).
Additional testing is planned through fiscal year 2022, the Marine Corp said, with each demonstration to be "carried out against relevant and increasingly more challenging cruise missile profiles."