The Marine Corps on Dec. 16 successfully tested its Medium Range Intercept Capability (MRIC) prototype during a live fire demonstration at White Sands Missile Range in Mexico. 
The MRIC concept involves integrating the Marine Corps' current Ground/Air Task Oriented Radar (G/ATOR) and Common Aviation Command and Control System with Israel's Iron Dome mini-Battle Management Control components and Tamir interceptor missile.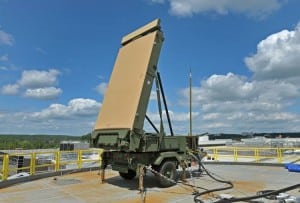 "The MRIC is a missile system which detects, tracks, identifies and defeats enemy cruise missiles threats and other manned and other unmanned aerial threats," Don Kelley, the MRIC program manager, said in a statement. "It is planned to provide ground based air defense for permanently fixed and operationally semi-fixed sites."
The program was "developed as part of a mid-tier acquisition rapid prototyping effort," according to the Marine Corps, which noted an initial demonstration was conducted in August 2019 to inform further prototype development.
Additional testing is planned through fiscal year 2022, the Marine Corp said, with each demonstration to be "carried out against relevant and increasingly more challenging cruise missile profiles."
"This test series will stress the system and define the system's proficiency and potential," the Marine Corps wrote. "Pending results, the Marine Corps will decide whether to potentially certify the prototype for deployment and/or establish an MRIC program of record."
Northrop Grumman [NOC], which builds G/ATOR, announced in September it had delivered the 15th radar to the Marine Corps, officially completing the program's low-rate initial production phase (Defense Daily, Sept. 3). 
The Marine Corps in February placed its Lot 3 full-rate production order for G/ATOR, awarding Northrop Grumman $237 million for eight more radars, bringing the total production value up to $686 million.
In October, the Army announced it was sending one of its two Iron Dome air and missile defense batteries to Andersen Air Force Base in Guam for experimental testing (Defense Daily, Oct. 8).