The State Department approved a possible $1.321 billion Foreign Military Sale (FMS) of the Electromagnetic Aircraft Launch System (EMALS) and Advanced Arresting Gear (AAG) to France for its new aircraft carrier.
EMALS and AAG are the upgraded methods for launching aircraft via catapults and receiving them currently used on the USS Gerald R. Ford
(CVN-78). The systems were developed by General Atomics to require less maintenance, less manpower and a smaller footprint over the earlier steam catapult and arresting gear used aboard Nimitz-class carriers.
The Defense Security Cooperation Agency (DSCA) notified Congress of this possible sale on Tuesday.
The FMS includes one EMALS in a two-launcher configuration, one AAG with a three-engine configuration as well as land-based testing and test spares, shipboard install, testing and certification support, training systems, and other associated logistical and program support.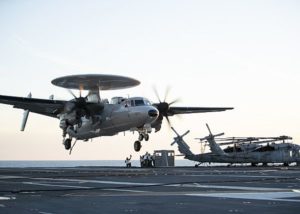 The prime contractors will be General Atomics' Electromagnetic Systems Group and Huntington Ingalls Industries [HII], the builder of the U.S. carriers.
DSCA said EMALS and AAG will be incorporated in France's next-generation aircraft carrier program, a future planned carrier that is expected to begin construction later this decade and enter service around 2038, when the current carrier, Charles de Gaulle, is due to be retired. 
The agency also said this sale will continue interoperability between the U.S. and France.
Implementation of the sale will require about 40 U.S. government and contractor representatives to be assigned to France for 10 weeks annually from 2022-2038 "to support shipboard system installation, commissioning, certification, aircraft compatibility testing, flight deck certification and sea trials," DSCA said.