The State Department approved potential Foreign Military Sales (FMS) to Brazil and South Korea for $109 million total in Mk 54 lightweight torpedoes and Mk 15 MOD 25 Phalanx Close-In Weapons System (CIWS).
The Defense Security Cooperation Agency (DSCA) notified Congress of the sales on Tuesday.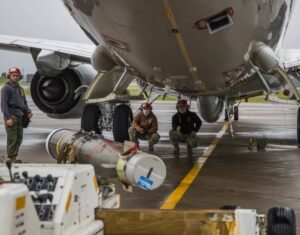 The Brazil FMS covers a request to buy 22 Mk 54 lightweight torpedo conversion kits at a cost of about $70 million.
The sale aims to convert Mk 46 Mod 5 A(S) torpedoes to the Mk 54 Mod 0 lightweight torpedoes. The sale also includes containers, recoverable exercise torpedoes, spare parts, air launch accessories and other related logistic and support equipment.
Brazil intends to use the Mk 48 torpedoes on its Lockheed Martin Sikorsky [LMT] S-70B Seahawk helicopters as well as surface vessels.
DSCA said the sale will improve the national security objectives of the U.S. by improving the security of an important regional partner "that is an important force for political stability and economic progress in South America."
Separately, South Korea is requesting two Mk 15 MOD 25 Phalanx CIWS Block 1B Baseline 2 systems along with 4,000 rounds, 20mm cartridge API linked at a cost of about $39 million.
DSCA said South Korea will use these systems aboard its first KDX III Batch II Class ship "to provide it with effective means of detecting and defending itself against incoming airborne threats."
The primary contractor for both sales will be Raytheon Technologies [RTX].