Oshkosh Defense [OSK] has received a $911 million order to deliver Joint Light Tactical Vehicles (JLTV) to the Army, Air Force, Navy and Marine Corps, as well as a group of international partners.
The latest deal is the company's second largest JLTV order to date and covers 2,679 vehicles for the U.S. military branches and 59 additional vehicles for Lithuania, North Macedonia and Brazil.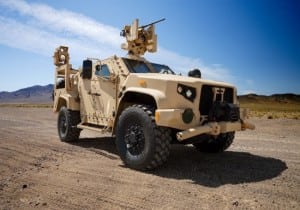 "Designing, building, and delivering the world's most capable light tactical vehicle, the Oshkosh JLTV, is one of our greatest accomplishments. And we plan to continue building the Oshkosh JLTV for many years to come," George Mansfield, the company's vice president of joint programs, said in a statement. 
The order also includes over 1,000 JLTV trailers and 6,725 vehicle kits, with work on the deal expected to be completed by October 2022. 
In February, Oshkosh received a $407 million deal to deliver 1,240 JLTVs to the Marine Corps, Lithuania and Slovenia, and in July the company was awarded another $127 million for 248 more vehicles.
The Army has previously indicated it plans to competitively award the follow-on production contract for JLTV and may consider splitting the award between vendors to drive down the program's production costs (Defense Daily, Feb. 18).
GM Defense [GM] said recently it has "strong interest" in the program, adding, "we believe we have the right [capabilities] to win in vehicle sizes of that [JLTV] size" (Defense Daily, Oct. 27).