Oshkosh Defense [OSK] said Monday its concept for the Army's Optionally Manned Fighting Vehicle (OMFV) competition will leverage the design of the Redback infantry fighting vehicle chassis manufactured by South Korea's Kanwha, one of its partners for the program.
The Wisconsin-based manufacturer detailed its full team selected as one of five competitors for OMFV's concept refinement phase, with the list also including Pratt Miller Defense subsidiary,
QinetiQ and Israel's Rafael Advanced Defense Systems and Plasan.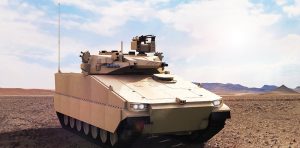 "Each of our industry partners will contribute their own best-in-class expertise in ground combat vehicles, turrets, armor, and autonomy. Together, we will provide a modular OMFV solution designed to defeat emerging threats with flexibility and room for growth to accommodate evolving requirements," Pat Williams, Oshkosh Defense's vice president for U.S. Army and Marine Corps programs, said in a statement.
The Army said last Friday it had awarded Oshkosh Defense, General Dynamics [GD], BAE Systems, Rheinmetall and armor supplier Point Blank Enterprises nearly $300 million in contracts to work for the next 15 months on the OMFV concept design phase to assist in finalizing requirements for the Bradley replacement program (Defense Daily, July 23).
Hanwha, a global supplier of combat vehicles, previously confirmed it had partnered on OMFV with Oshkosh Defense, which does not build tracked armored vehicles but does produce platforms such as the Army and Marine Corps' Joint Light Tactical Vehicle, back in April, while not specifically confirming at the time whether a bid would be based on an existing platform.
Oshkosh Defense notes Hanwha's recent success moving forward as a final competitor in Australia's multi-billion dollar Land 400 Phase 3 future infantry fighting vehicle competition, where it's offering the latest version of the Redback platform.
Australia is set to make a final acquisition decision in 2022 between Hanwha's AS21 Redback and Rheinmetall's Lynx infantry fighting vehicle (Defense Daily, Sept. 19, 2019).
Oshkosh Defense also added its OMFV concept utilizes Rafael's SAMSON family of turrets, which is also part of the Medium Caliber Weapon System (MCWS) solution it is set to provide for the Army's Stryker vehicles.
The Army awarded Oshkosh Defense a potential $942 million deal last month to produce the new 30mm Stryker MCWS capability, receiving an initial $130 million order covering production for 91 vehicles with a first unit equipped date set to be completed by December 2023 (Defense Daily, June 3).