The Army on Thursday awarded Oshkosh Defense [OSK] a potential $942 million deal to produce the new 30mm Medium Caliber Weapon System (MCWS) for its Stryker vehicles.
Oshkosh Defense beat out two other bidders for the program to provide a 30mm, unmanned turreted auto-cannon integrated on a Stryker DVHA1 Infantry Carrier Vehicles and received an initial $130 million order covering production for 91 vehicles, with a first unit equipped date set to be completed by December 2023.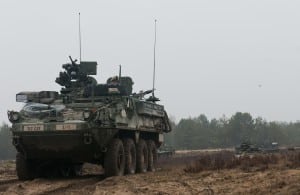 "We did have a robust competition. We had several fantastic solutions presented and evaluated over the course of the last year now. What resulted was a best value award selection…that I believe is going to provide great capability to our soldiers," Col. Bill Venable, program manager for Stryker Brigade Combat Teams, told reporters ahead of the contract announcement.
The Stryker MCWS program began in May 2019 with a design integration study that included Pratt Miller, which has since been acquired by Oshkosh Defense, General Dynamics [GD], which builds the Army's Strykers, as well as Raytheon Technologies [RTX], Leonardo DRS, and Kollsman, Inc.
Oshkosh completed its $115 million deal to acquire the vehicle engineering and product development company Pratt Miller in January (Defense Daily, Jan. 22). 
Each company received a government-furnished Double V-Hull A1 Stryker and a 30mm XM813 cannon, built by Northrop Grumman [NOC], and was asked to integrate a turret and fire control system of their choice.
Last June, Army officials told reporters that two vendors had dropped out of the program, ultimately receiving bid samples from three vendors, noting the unnamed vendors had expressed affordability concerns and a lack of confidence in "technical glidepath" (Defense Daily, June 16). 
"Preserving the competition going into source selection was a primary mandate because we believe that would result in better value for the government, getting a better technical solution at a lower cost," Venable said. "I can't speak to the business calculus that each of the vendors has to go through as they attempt to evaluate whether they can unseat an OEM that's been in this business for a long time."
Venable also noted that the schedule for Stryker MCWS has shifted, with the original First Unit Equipped date planned for August or September 2022.
"That shifted, by some degree, due to production timelines and test timelines and so forth associated with the program but also was in response to the unit's schedule and the Army's plan with [modernization system equipping] and so forth," Venable said, also noting a scheduling impact due to the pandemic.
The Army has signed off on plans to procure three brigades worth of Stryker MCWS, while the $942 million contract value reflects the potential for the Army to push that up to six brigades, according to Venable.