The Army has approved the final requirements for its Future Tactical Unmanned Aircraft System (FTUAS), allowing the Shadow drone replacement program to move toward competition.
The Army Requirements Oversight Council officially signed off on the Abbreviated Capability Development Document (A-CDD) for FTUAS on Aug. 12, the Future Vertical Lift Cross Functional Team (FVL CFT) confirmed to Defense Daily
.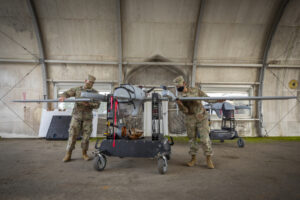 The update, first reported by Defense News, arrives after the service spent over a year evaluating four potential FTUAS offerings to inform requirements development, culminating in a 'rodeo' event to test each of the systems and gather further feedback from soldiers.
Army officials told reporters in early March they were impressed with results of the FTUAS rodeo, which was held at Fort Benning in Georgia, noting the four UAS platforms received high marks for operating in inclement weather, demonstrating runway-independence and vertical takeoff and landing, their "significantly quieter" acoustic signature and the ability to command and control on the move (Defense Daily, March 2).
The platforms involved in both the rodeo and operational unit evaluations over the preceding year were Martin UAV's V-Bat, Textron's [TXT] AAI Corp.'s Aersonde, L3Harris' [LHX] FVR-90, and Aerovironment's Arcturus JUMP 20.
"We saw a very agile system from every performer. And we saw the soldiers uniformly fall in love with this capability and want to keep it because, again, it is such a transformational capability," Maj. Gen. Walter Rugen, director of the FVL CFT, told reporters at the time.
Brig. Gen. Rob Barrie, the Army's Program Executive Officer for Aviation, has said the Army will utilize will a full and open competition for the FTUAS prototyping phase and eventual production award, while adding that the four participants in the evaluation period will have a "firmer understanding" of how the Army arrived at its final requirements.
"What we will commit to is that we will leverage, to the greatest extent possible and in the same way we have thus far, the acquisition authorities that we have in the flexible manner to rapidly deliver this capability by whatever means we can," Barrie previously told reporters.
A competitive prototyping phase for FTUAS is likely to kick off in late FY '22 before the Army makes a production decision in FY '25.