The Army has awarded AeroVironment [AVAV] an $8 million deal to provide its JUMP 20 drone for the first increment of the Future Tactical Unmanned Aircraft System (FTUAS) program to find a replacement for the service's RQ-7B Shadow system.
AeroVironment will deliver one system consisting of six air vehicles, ground data terminals and ground control stations for FTUAS Inc. 1, with options to potentially procure seven additional systems, as the Army looks to field the capability to meet an immediate operational need and inform requirements for the eventual enduring capability.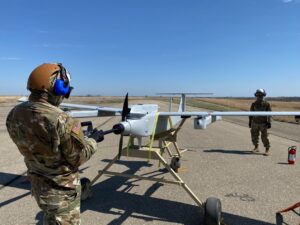 "With Increment 1 of the FTUAS program, the Army will be testing and fielding the JUMP 20 on an accelerated schedule as they seek a replacement for the RQ-7B Shadow UAS currently fielded in Brigade Combat Teams," Gorik Hossepian, AeroVironment's vice president and product line general manager for medium UAS, said in a statement. "The combat-proven JUMP 20 is a rapidly deployable, runway independent, vertical takeoff and landing solution for the Army. Its ability to be deployed, operated and sustained from anywhere is a game-changer in theater and in situations where the enemy has invaded or destroyed infrastructure."
An Army spokesperson told Defense Daily the service expects the delivery of the one system of JUMP 20 to a single Brigade Combat Team within six weeks, where it will undergo testing, with the results set to inform whether the Army picks up the options for additional systems.
The Army released a request for prototype proposals for the competitive FTUAS Inc. 1 award at the end of last September, which followed a year-long evaluation with drone offerings from several vendors.
The platforms that participated in the evaluation process, which culminated in a "rodeo" event at Fort Benning in Georgia, were AeroVironment's JUMP 20, Martin UAV's V-Bat, Textron's [TXT] AAI Corp.'s Aersonde and L3Harris' [LHX] FVR-90.
"AeroVironment met performance requirements while offering high technology and manufacturing readiness levels, thereby reducing the need for additional development," the Army said of its decision to select the company for the FTUAS Inc. 1 Other Transaction Authority agreement.
In parallel to Inc. 1, the Army is currently assessing white paper submissions for FTUAS Inc. 2, which is a rapid prototyping effort to field an enduring capability to replace its Shadow drones.
An initial award to selected prototype vendors for FTUAS Inc. 2 is slated for fiscal year 2023, according to the Army spokesperson.
Brig. Gen. Rob Barrie, the Army's Program Executive Officer for Aviation, has said the Army will utilize a full and open competition for both the FTUAS Inc. 2 prototyping phase and the eventual production award, while adding that the four participants in the prior evaluation period will have a "firmer understanding" of how the Army arrived at its final requirements (Defense Daily, Sept. 3 2021).
Volansi, a Silicon Valley-based drone maker, told Defense Daily in March its new VOLY 50 series unmanned aerial vehicle, which is able to handle a range of payloads with a 50-pound cargo capacity, is the basis for the system it plans to offer along with Sierra Nevada Corporation for FTUAS Inc. 2 (Defense Daily, March 30).
The Army said FTUAS aims to replace Textron's Shadow drone with a "vertical takeoff and landing, runway-independent, reduced acoustic signature aircraft that can be transported organically while providing commanders with 'on the move' reconnaissance, surveillance, and target acquisition capabilities."
FTUAS is intended to meet requirements for rapid emplacement in less than 45 minutes, have a smaller footprint than Shadow, be transportable by a single CH-47 Chinook, provide over six hours of operating time and operate out to 100 kilometers, the Army added.
"Ideal for multi-mission operations, JUMP 20 delivers 14+ hours of endurance, a standard operational range of 115 miles (185 kilometers) and is runway independent. The system can be set up and operational in less than 60 minutes without the need for launch or recovery equipment and has a usable payload capacity of up to 30 pound," AeroVironment said in a statement. "The JUMP 20 also features a common autopilot and ground control system architecture providing a highly customizable, modular platform that can be custom configured to meet operational or customer requirements."