NASHVILLE, Tenn. — The next iteration of the Army's Future Vertical Lift (FVL) and aviation-focused EDGE experiment, starting later this month, will include bringing in seven international partners and aiming to accomplish over 50 technology objectives, according to a lead official.
Maj. Gen. Walter Rugen, director of the FVL Cross Functional Team, previewed the upcoming EDGE '22 event at this week's Army Aviation Association of America (AAAA) annual conference here, noting it will rehearse key aspects for this fall's Project Convergence use cases "in a theater-relevant environment."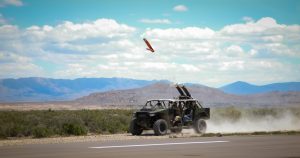 "We'll be doing a number of convergence [examples] of joint intel with multi-intelligence sensing. We'll be working heavily with electronic warfare in the sense and attack tactical tasks. And we'll be doing some kinetic work once we, again, penetrate. [There will] be two combined air assaults with our international partners. And in that international space, we'll be working on cross-boundary contingencies and cross-domain solutions to enable those cross-boundary contingencies to happen at speed," Rugen told reporters during a briefing at the AAAA conference here.
The Army held the first EDGE event last May, which focused on bringing in new technologies and FVL surrogate platforms to understand how the lower-tier of the air domain can connect ground, space and additional upper-tier assets to pass highly-specific targetable data in concise packages for improved situational awareness on the tactical edge (Defense Daily, May 17 2021).
This year's event will once again be held at Dugway Proving Ground in Utah from April 25 to May 13, and include the seven international partners as well as participation from five Army CFTs and the service's Artificial Intelligence Integration Center, according to Rugen.
"Predominantly, our international partners are coming to work with us to ensure that we have that combined interoperability at the tactical edge," Rugen said during his address at the AAAA conference.
While Rugen said the Army is still finalizing the total number of technology objectives it will set out to achieve at EDGE '22, he noted the event will include the largest interactive drone swarm demonstration to date.
"We'll have a number of classified and unclassified behaviors in that drone swarm," Rugen said.
Last year's EDGE event included utilizing IVAS augmented reality headsets enabling an air assault, the new Artemis spy plane to scout targets, a Gray Eagle drone outfitted with the new Multi-Function Electronic Warfare (MFEW)-Air Large jamming pod and new Air Launched Effects- Small and Large systems to provide intelligence information.