NASHVILLE, Tenn. — The Army is currently soliciting industry's input to inform the path forward on its Air Launched Effects (ALE)-Small and Large efforts, with plans to potentially begin fielding the new systems by fiscal year 2028.
Brig. Gen. Robert Barrie, program executive officer for aviation, told reporters at the Army Aviation Association of America (AAAA) annual conference here, the Army has released three Request for Information notices to industry focused on the ALE-Small and Large architectures, mission systems and all-up round.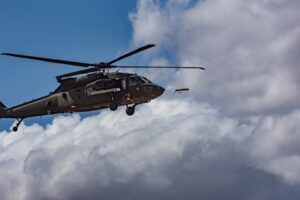 "We will take lessons from these RFIs as we get feedback from industry on how we build and architecture and how we can communicate to industry that here are your requirements for interfacing, we want these payloads, we want these attributes on the all-up round and we want the architecture to comply with these standards. And then we'll be able to solicit from industry the best-of-breed in all of those areas," Barrie said.
ALE is the Army's push to develop new autonomous air vehicles with a variety of payloads and mission system applications that can be launched from the service's Future Vertical Lift (FVL) fleet to provide a range of effects for reconnaissance, extended communications links and eventually lethal capabilities as well.
Barrie said the Army's near-term focus is on ALE-Small, while the service continues to leverage work out of the Pentagon's Strategic Capabilities to inform ALE-Large.
The Army has previously experimented with an ALE-Small prototype at its EDGE and Project Convergence experimentation events, using an ALTIUS-600 drone built by Anduril Industries subsidiary Area-I.
Jim Thomson, deputy director of the FVL Cross-Functional Team, noted in November the Army had conducted a fly-off to inform potential OTA awards for continued prototyping of ALE-Small's air vehicles, payloads and mission system support (Defense Daily, Nov. 9).
Barrie noted the RFIs will also help in determining operational roles for the small and large versions of ALE as the Army moves forward.
"I think to a certain degree [that's] to be determined. As you would expect, I think there will be different price points, different scale and scope of what the systems can do," Barrie told reporters.