The Army announced Monday it has approved the Abbreviated Capability Development Document (A-CDD) to begin rapid development and experimentation for its Tactical Space Layer (TSL) program, which plans to begin assessing prototypes later this year.
The signing of the A-CDD allows the Army's Assured Positioning, Navigation and Timing (PNT)/Space Cross-Functional Team (CFT) will synchronize efforts across the service to go after tactical space-based sensors with supporting ground-based equipment aimed at reducing the sensor-to-shooter timeline.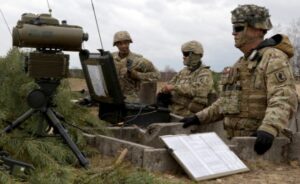 "The Tactical Space Layer A-CDD supports a unity of effort and enables the acceleration of informing, procuring, and fielding of advanced space-based capabilities to the warfighter," Willie Nelson, director of the Assured PNT/Space CFT, said in a statement.
Rapid experimentation efforts will be used to test potential Tactical Space Layer capabilities, with plans to assess prototypes during this fall's second annual Project Convergence demonstration and a series of live fire exercises with U.S. Army Pacific and U.S. Army Europe and Africa.
"The TSL will provide deep area sensing, rapid targeting, and unmatched battlefield situational awareness," Lt. Col. Travis Tallman, director of the Assured PNT/Space CFT's tactical space signature effort, said in a statement. "Leveraging the TSL will further enable long range precision fires and ground maneuvers in GPS-challenged environments."
The Army noted that TSL capabilities will be integrated with the next-generation Tactical Intelligence Targeting Access Node (TITAN) future intelligence ground station "to enable deep sensing and shortening the [sensor-to-shooter] timeline."
"TITAN will have the ability to access aerial and terrestrial sensors while enabling assured access to national, commercial and TSL sensors to identify and deliver targetable data directly to fires networks that support [long-range precision fires]," the Army wrote.
Last January, the Army awarded a pair of deals to Palantir Technologies [PLTR] and Raytheon Intelligence & Space [RTX] to support TITAN development and software maturation (Defense Daily, Jan. 11 2021).