The Army's fiscal year 2022 budget request will include another round of cuts and reductions to "dozens of more programs" to continue fully funding modernization efforts, a top service official said Wednesday.
Lt. Gen. James Pasquarette, the Army G-8, told attendees during an online Association of the United States Army meeting the next budget cycle will also reflect a focus on securing funds for 'Priority 2' capabilities to ensure they can be delivered in sync with the signature weapon systems they will support.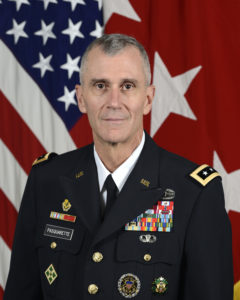 "After two deep dives I thought it was going to be more challenging to find those efficiencies, and I was right. It was harder. But at the same time, the [modernization] requirements were not as significant given they were well-resourced in the previous two [Program Objective Memorandum] builds," Pasquarette said.
The Army's night court process looks to shift funds from lower priorities over to modernization programs, with the service reducing or cutting over 180 programs to find $30 billion during the first go-around and another 80 programs to align $9.1 billion with signature system development during the latest iteration.
Pasquarette said he was unable to offer specific details on the results of the latest night court until the budget rollout process early next year.
"I can't talk about the details given that it's sitting inside the Department of Defense right now. But you'll see that at the [budget] rollout when it happens, and I'll be prepared to talk any details at that time," Pasquarette said.
Army Secretary Ryan McCarthy previously told reporters the latest round of night court divestitures for the FY '22 budget will be at a similar level to the FY '21 amount, which found $13.5 billion total to shift toward modernization, with subsequent years to likely go after larger cuts (Defense Daily, Oct. 15).
Pasquarette said 50 percent of funding in the latest budget cycle for the Army's equipping portfolio is aligned with the over 30 signature weapons systems and the newly-named 'Priority 2' key enablers aligned with each modernization effort.
"Under the money talks, BS walks saying, this is the clearest evidence that our Army leadership's commitment is to modernizing the Army," Pasquarette said.
An example of a 'Priority 2' program is an upgrade to the Q-53 Counterfire Radar that will enable it to support the future Extended Range Cannon Artillery (ERCA) weapon system.
"Currently, the system cannot sense out to 70 kilometers, but we're developing an artillery system that will shoot that far with ERCA. So we're investing in developing an extended range Q-53 radar to complement the ERCA system. It's common sense, but the key enabler concept was scattershot prior to this program build," Pasquarette said.