A pair of Senate appropriators on Thursday pressed the defense secretary on the Pentagon's decision to push back procurement of a second new Navy destroyer in the fiscal year 2022 budget request, citing concerns on impacts to the industrial base.
Defense Secretary Lloyd Austin said the decision to push the destroyer buy to fiscal year 2023 would likely cost the Pentagon a $300 million penalty, while citing the decision as a measure that could save the Navy more than two billion dollars to put toward modernization efforts.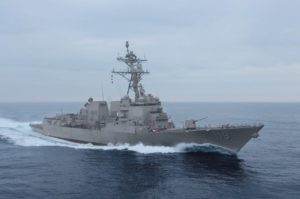 "One of the biggest mistakes in the budget, from my perspective, is the decision to cut a [a second Arleigh Burke-class DDG-51 Flight III destroyer] from the current multi-year procurement contract. This reflects a broader trend of not making the investments necessary to build anywhere close to a 355-ship Navy that multiple studies have confirmed is needed. China, on the other hand, now has the world's largest Navy, has about 60 more ships than our own fleet and has surpassed our own 355-ship goal," Sen. Susan Collins (R-Me.) said to Austin during an Appropriations Committee hearing on the department's $715 billion budget request.
When pressed to commit to working with Congress on reinstating the funding, Austin provided a similar response to what he told the Senate Armed Services Committee last week and said he would update the panel on adjustments to procurement plans while stating his priority is providing for the right mix of capabilities (Defense Daily, June 10). 
"Senator, you have my commitment that I will continue to work with the committee to do everything we can to resource our Navy. We have the most dominant Naval force on the face of the planet. It has been so in the past, it is so right now and it will remain so going forward," Austin said.
The budget request's proposal to delay funding a second new destroyer would break from an ongoing multi-year procurement contract that splits work between General Dynamics' [GD] Bath Iron Works and Huntington Ingalls Industries' [HII] Ingalls Shipbuilding.
"I'm also very concerned about the impact on our industrial base. We only have two yards that build large surface combatants. Bath Iron Works in Maine has hired 3,000 additional shipbuilders since 2018, it's working quickly to improve its productivity to reach two ships-per-year build rate and it has a hot production line that's getting more efficient by the day. But if this budget passes, BIW is rushing toward a workload cliff that will lead to loss of jobs, reverse these productivity gains and weaken the industrial base," Collins said.
Sen. Jon Tester (D-Mont.), chair of the Senate Appropriations Defense Subcommittee, pressed Austin on the potential penalties if the Pentagon forgoes commitments in multi-year contracts, with the defense secretary citing the potential savings that come from such decisions.
"If we have the ability to honor a multi-year contract then I think that's exactly what we should do. If we have to make a difficult choice and invest in something else, then I think that we need to be prepared to make that difficult choice and certainly we'll pay a tax for not abiding by that multi-year contract. But what I think is most important is that we provide the right capabilities for the services," Austin said in response to Tester. "But when you compare that to a couple billion dollars that you would have had to spend on the DDG…so [it's about] when you have to make choices. In this case, we invested in a DDG, two submarines and a frigate."
The Navy's $5.6 billion unfunded priorities list, submitted to Congress earlier this month, included $1.7 billion for a second Arleigh Burke-class DDG-51 Flight III destroyer (Defense Daily, June 2).