Lawmakers on Thursday pressed Pentagon leadership on program cuts and delays in the department's recently released $715 billion fiscal year 2022 budget request, specifically citing concerns with plans to reduce the number of A-10 aircraft and Block 30 RQ-4 Global Hawk drones and push back procurement of a second new Navy destroyer.
Defense Secretary Lloyd Austin and Army Gen. Mark Milley, the joint chiefs chairman, defended the "tough choices" before the Senate Armed Services Committee, as the department plans to cut billions in legacy systems to fund future weapons system development better suited for potential competition with countries such as China.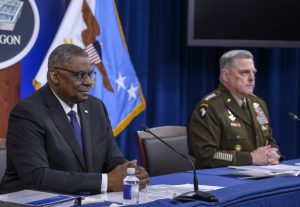 "We're always faced with making tough choices. And so as we looked at what we could do in this budget and what was best to do in this budget, we're making those choices," said Austin.
Sen. Mark Kelly (D-Ariz.) particularly pushed Austin and Milley on the Air Force's proposed decision to retire 42 A-10 aircraft, adding the move may produce savings that are "quite small" when compared to the overall budget.
"I don't see another airframe in our inventory, not the F-16, not the F-35, that can do the mission like the A-10 can. And when you combine the fact that it is far superior in that role and protects troops on the ground when they need it the most and at the same time is cheap compared to the flight hour costs of an F-35 or even an F-16. We don't have an aircraft that can do this mission like the A-10 can," Kelly said. "I am seriously concerned that if we go down this road and we remove 42 airplanes from the inventory that if we wind up in a conflict…we're going to be regretful that we don't have that platform."
Milley said he supports the Air Force's recommendation for the A-10, calling it a "modest decrease" that would present an "acceptable risk."
"Personally, I'm a big fan of the A-10. However, we're talking about 42 aircraft. We're still going to have 239. We've got enough for five squadrons," Milley said. "What we have to do, we collectively, Congress, the Department of Defense, we in uniform, we've got to recognize and begin to shift toward the future operating environment and the changing character of war. And we must shift to the capabilities that are going to be relevant, survivable and effective against a tier-one adversary sometime in the future."
The Force's budget request calls for divesting 201 platforms to save nearly $1.4 billion, to include the 42 A-10 aircraft as well as 48 F-15C/Ds, 18 KC-135s, 14 KC-10s, 47 F-16C/Ds, eight C-130Hs, 20 Block 30 RQ-4 Global Hawk drones and four Joint STARS aircraft (Defense Daily, May 28). 
On the Block 30 RQ-4 Global Hawks divestment, Milley responded to concerns from Sen. Kevin Cramer (R-N.D.) on the lack of a plan for filling a current intelligence, surveillance and reconnaissance (ISR) capability gap by noting the move signals a continued shift toward prioritizing platforms better suited for a future operating environment.
"In this budget, I think we are adequately funding ISR as we go forward for the main effort relative to China. And with respect to the [RQ-4 Global Hawk] Block 30s and the MQ-9s, again it has to do with relevance and pivoting to the future. This budget biases [toward] the future operating environment, change in the character of war and against the pacing threat of China," Milley said. 
Sen. Angus King (I-Maine) pressed Austin and Milley on the Navy's proposal to forgo funding a second new destroyer in the request, part of an ongoing multi-year procurement contract that splits work between General Dynamics' [GD] Bath Iron Works and Huntington Ingalls Industries' [HII] Ingalls Shipbuilding, adding the decision "sent a shudder through the industrial base."
"It's unprecedented in my experience that a multi-year [procurement plan] has been breached which would actually cost the government money in penalties. I hope Mr. Secretary that you and [Navy Chief] Adm. Gilday can work with us to restore that ship because I think it has importance beyond just the one ship but [also] the symbolism of breaking a multi-year and also pulling back on our commitment to increasing the capacity of the Navy," King said. 
Austin said he would "absolutely" plan to work with Congress on updating lawmakers on the procurement plans, while noting that current plans would have the destroyer buy occurring in FY '23.