Army Gen. Mark Milley, the joint chiefs chairman, told lawmakers on Wednesday he would not recommend pausing development of the future Ground Based Strategic Deterrent (GBSD) intercontinental ballistic missile as a means of saving funds for other priorities, citing a concern that a delay would lead to a gap in nuclear deterrence capability.
"I would not recommend taking that money away and putting it elsewhere," Milley told the House Armed Services Committee. "The recapitalization of the entire [nuclear] triad, to include the GBSD, is critical to our nation's security and [with] a delay of 12 to 15 years you would have a gap. You'd have a gap in the land-based leg."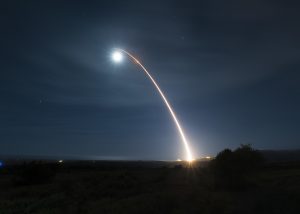 Milley was responding to a question from Rep. John Garamendi (D-Calif,), who asked the chairman how he would prioritize $37 billion in savings if the GBSD program was paused for 12 to 15 years in favor of a service life-extension program for the current Minuteman III ICBM. Garamendi was referencing figures from a 2017 Congressional Budget Office report.
"However, all of you want to maintain the [nuclear] triad which will be $1 trillion-plus over the next 15 years or so, 20 years maybe. One element of that is the GBSD, the replacement for the Minuteman III. The reality is the Minuteman III can be life-extended," Garamendi said. I think the facts are quite clear that we could pause the GBSD and be secure with the Minuteman III as it is life-extended over that period of time."
Defense Secretary Lloyd Austin, who testified alongside Milley on the Pentagon's fiscal year 2022 budget request, told lawmakers that no adjustments have been made related to the future of GBSD and any such decision would be based on the Biden administration's upcoming nuclear posture review.
"I think it deserves the right amount of effort and attention and we'll make the best choices. But these choices need to be informed by the [nuclear] posture review to make sure that we have the right balance here," Austin said.
The Air Force's FY '22 budget request includes more than $2.5 billion for GBSD, $1.1 billion more than the program received in FY '21 (Defense Daily, May 28).
Northrop Grumman [NOC] is set to build GBSD under a $13-billion contract awarded in 2019.
A pair of GOP committee members, including Rep. Liz Cheney (R-Wyo.), pushed back on the idea of potential savings from a program pause and instead cited recent testimony from Air Force Global Strike Command Commander Gen. Timothy Ray that a Minuteman III life-extension effort would cost $38 billion more than GBSD development.
"I've listened to you today, it sounds like there may be some question about whether or not you agree with those assessments or whether or not a change will be made as you look at the posture review," Cheney said.
Austin reiterated that no final decision has been made, while also noting the GBSD program remains on-schedule and on-budget for an initial flight test in 2023.
"If I conveyed that I've already made some sort of decision, congresswoman, that's absolutely not the case. I think the right thing to do, if we're going to conduct a nuclear posture review, which we are going to do, is to make sure that we have the right pieces in place, the right balance and to make sure that we continue to evaluate the GBSD in the context of that nuclear posture review," Austin said.
Air Force Maj. Gen. Anthony Genatempo, the service's top nuclear procurement officer, said last week that the GBSD program is resilient enough to remain unscathed by any potential adjustments as a result of the nuclear posture review (Defense Daily, June 14).
Progressive lawmakers have introduced several measures to cancel the GBSD program, to include a bill introduced by Sen. Ed Markey (D-Mass.) and Rep. Ro Khanna (D-Calif.), a member of HASC, to stop development of the weapon and redirect the funds toward developing a universal coronavirus vaccine and other disease research (Defense Daily, March 26).