The U.S. Navy and Japan Maritime Self Defense Forces (JMSDF) completed a passing exercise (PASSEX) in the South China Sea on May 18, the Navy said Friday.
A PASSEX includes personnel exchanges, cross-deck flight operations, communications exercised, division tactics, a tracking exercise, and photo exercise. The event aims to enhance interoperability between the forces and emphasizes how important coordination and communications are while operating together, the Navy said.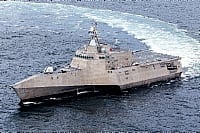 The South China Sea contains numerous contested islands, with China claiming most of them while several Southeast Asian countries have overlapping claims based on the United Nations Convention on the Law of the Sea (UNCLOS) boundaries.
Participating ships included the littoral combat ship USS Coronado (LCS-4); The JMSDF Izumo-class helicopter destroyer JS Izumo (DDH-183), with embarked Escort Flotilla One Command Element; and the Takanami-class destroyer JS Sazanami (DD-113).
"This was another great opportunity for the U.S. Navy to work closely with JMSDF at sea. Integrating the crews through personnel exchanges allows our Sailors to build and strengthen the personal relationships that are the foundation of our naval partnership," Capt. Alexis Walker, deputy commodore of Destroyer Squadron 7, said in a statement.
Personnel exchanges were conducted via cross-deck helicopter operations using the Coronado's MH-60S and the Izumo's SH-60K Seahawk.
"The U.S.-Japan alliance is stronger than it has ever been, and it is growing stronger. Conducting bilateral exercises with U.S. Navy regularly, JS Izumo and JS Sazanami will contribute to regional peace and stability in this Indo-Asia-Pacific region," Rear Adm. Yoshihiro Goka, commander of Escort Flotilla One, added.
The Izumo is the largest ship in the JMSDF and, although classified as a helicopter destroyer by Japan, it is closer to a helicopter carrier. It was commissioned in 2015 and is the largest Japanese naval vessel since World War II.
The U.S. Navy said a PASSEX is unique because it allows the navies to operate closely in ways shore exercises do not allow and it provides crews with real-life situations to practice watchstanding and communication skills with foreign vessels.
Before conducting the PASSEX, the ships participated in the International Maritime Defense Exhibition (IMDEX) in Singapore. IMDEX is one of the largest maritime exhibitions in the region.