Aircraft builder Boeing [BA] delivered the first two Block III F/A-18E/F Super Hornet test aircraft to the Navy for flight testing, the company said Wednesday.
The two aircraft consist of a single-seat E model and two-seat F model.
Boeing Vice President for F/A-18 & EA-18G Programs Steve Wade said the aircraft will be used for carrier suitability and integration testing of all the Block III mission system components, allowing pilots to get familiarized with the new advanced cockpit system with a new touchscreen display.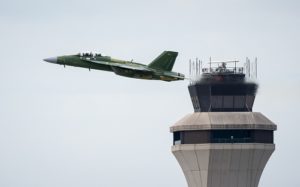 The company said the Navy will also "test the capabilities delivered with the enhanced network capability."
"These test jets will ensure crews have plenty of time to become comfortable with the new, next-generation systems before receiving operational aircraft," Wade said in a statement.
The Block III aircraft have several improvements like conformal fuel tanks to add 100-120 nautical miles of range, extending its lifespan from 6,000 to 10,000 flight hours, smaller radar signature, enhanced network capabilities, upgrades to the Lockheed Martin [LMT] Block II Infrared Search and Track System (IRST) sensor, upgrades to the Active Electronically Scanned Array, enhanced communication system, new datalinks and computer, enhanced engines, and the advanced cockpit system.
The company conducted the first flights for these initial Block III test aircraft in May at its facilities in St. Louis before delivering them to the Navy.
Previously, the company underscored the computing upgrades to the aircraft, notably the Distributed Targeting Processor Network (DTP-N) onboard computer built with open-system standards and Tactical Targeting Network Technology (TTNY) as a data pipe. In 2018, Boeing told reporters the new IRST combined with DTP-N and TTNY gave pilots a new common tactical picture where multiple aircraft can communicate and share data to better compute weapons-quality tracking. Officials compared it to having two eyes for depth perception (Defense Daily, May 24, 2018).
In April the Navy took delivery of the last Block II Super Hornet before shifting to the Block III, marking Boeing delivering 322 F/A-18Es and 286 F/A-18Fs (Defense Daily, April 27).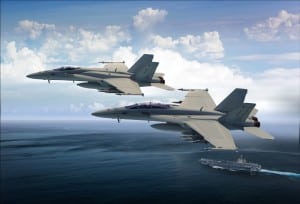 At the time the Navy said after it takes delivery of these two initial Block III aircraft it would start by testing them at Naval Air Station Patuxent River, Md., and Naval Air Weapons System China Lake, Calif.
The Navy will test the two Block III Super Hornets for the next year while the company plans to deliver operational Block III aircraft in 2021.
Last year, Boeing won a $4 billion multi-year procurement contract to build 78 full-rate production Block III Super Hornets for fiscal years 2018-2021 (Defense Daily, March 21, 2019).
Separately, the Navy is also upgrading existing Block II Super Hornets to the Block III version via a Service Life Modernization (SLM) effort in two steps: first the flight hours are improved to 7,500 hours and then almost 10,000 hours and adding the other Block III upgrades.
Boeing delivered the first SLM updated Super Hornet in February and expected to deliver six total in 2020 (Defense Daily, Feb. 6). The company previously said it planned to eventually modify 40 Block II aircraft per year and expects the combined Block III work to last through at least 2033.