The Army has started initial fielding of the new A1- configuration Double V-hull (DVHA1) Stryker vehicles, which officials said will keep the vehicle fleet in service through 2050.
The 2nd Brigade Combat Team of the 4th Infantry Division (2/4 ID) at Fort Carson, Colorado, have begun receiving the first of 34 DVHA1 Strykers, with plans to deliver 331 total vehicles through March 2021.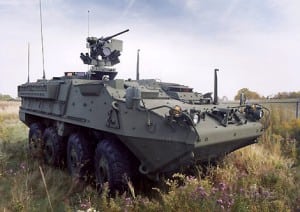 "The DVHA1 really forms the basis for the Stryker platform going forward for the next 30 years," Col. William Venable, the Stryker Brigade Combat Team project manager, said in a Wednesday statement. "The Stryker will be in the formation until 2050, and these improvements will allow the platform to accept future capabilities and upgrades as they come up."
The delivery announcement follows a recent $2.5 billion contract award to General Dynamics [GD] to build additional DVHA1 Strykers through April 2027 (Defense Daily, June 10). 
DVHA1 is the third-generation of Army Strykers and features a new 450-horsepower engine, improved suspension, increased on-board electrical power, integration of a smart power management system and chassis upgrades to increase the vehicle's payload capacity.
"The DVHA1 also keeps an eye toward the future by improving in-vehicle network capabilities and allowing for future growth as the Army's network develops," the Army wrote in a statement.
Venable told reporters on Tuesday building up the DVHA1 fleet will include transitioning capability off existing legacy flat-bottom hull Strykers.
"[The DVHA1] will form the foundation for combat capability in this formation for three decades to come. The Army will eventually move all mission capabilities off of the flat-bottom [Strykers] onto the DVHA1 platform, both within the Brigade Combat Teams and with those elements that are at echelons above brigade," Venable said.
During the discussion with reporters on Tuesday, Army officials also said the service remains confident in its program to upgrade its Stryker vehicles with a new 30mm Medium Caliber Weapon System (MCWS) after a group of vendors dropped out of the program's design study phase, with the service readying to receive final proposals this August (Defense Daily, June 16).