The Army plans to award Kord Technologies another prototype deal to deliver eight additional Stryker-mounted 50-kilowatt laser prototypes, with four to be delivered in fiscal year 2023 and four more in FY '24.
In a Nov. 17 notice, the Army detailed plans to issue a sole-source Other Transaction Agreement that would add the additional Directed Energy Maneuver Short-Range Air Defense (DE M-SHORAD) prototypes on top of the original four slated for delivery in late FY '22.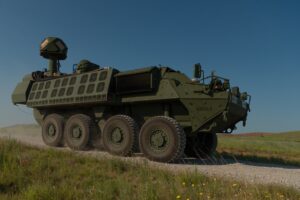 "The DE M-SHORAD prototypes will incorporate design changes to reduce overall weight and increase maintainability on the system," the Army wrote in the notice.
DE M-SHORAD is intended to deliver a on-the-move laser system capable of taking down unmanned aerial systems, rotary-wing aircraft and rockets, artillery and mortars, with plans to start off with a platoon of four laser-equipped Strykers by next fall.
In August 2019, the Army announced it selected Kord Technologies to provide the 50 kilowatt laser for DE M-SHORAD (Defense Daily, Aug. 1 2019).
Raytheon Technologies [RTX] was tapped to move forward as the laser module integrator for DE M-SHORAD in August, with Northrop Grumman [NOC] having been dropped from the program before a shoot-off evaluation this summer for failing to meet a required gate criteria during a quarterly assessment (Defense Daily, Aug. 18).
"We have money in the budget and plans to continue to build a small number of prototypes and allow Army senior leaders the decision space for a competitive program of record in the future," Craig Robin, deputy director of the Army's Rapid Capabilities and Critical Technologies Office's directed energy project office, told reporters in August.
Robin said he expects the Army's Program Executive Office Missiles and Space is likely to conduct a full and open competition for the eventual DE M-SHORAD production contract.
Lockheed Martin [LMT] said in October it is developing the Directed Energy Interceptor for Maneuver Short-Range Air Defense System, or DEIMOS, in pursuit of the expected DE M-SHORAD production competition in FY '23, with plans to demonstrate the capability in late 2022 (Defense Daily, Oct. 11).