Lockheed Martin [LMT] has detailed its intent to pursue the Army's program to field a Stryker-mounted 50-kilowatt laser system, with plans to demonstrate the capability in late 2022. 
Tyler Griffin, business development director for Lockheed Martin Rotary and Mission Systems' advanced product solutions, told reporters the company is developing the Directed Energy Interceptor for Maneuver Short-Range Air Defense System, or DEIMOS, and will offer the capability when Army is slated to begin the production competition in fiscal year 2023.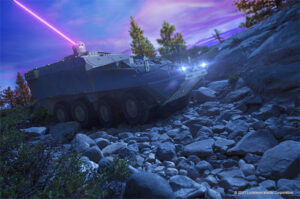 "Here we're looking at focusing on affordability. And affordability is much more than cost. We understand the Army's focus on cost-per-kill, however, and providing the best value for the warfighter. And what we're looking at, from a Lockheed Martin perspective, is we're looking for best-of-breed technologies, many of which we can reuse from some of our [other laser programs], but also extending that into Army radar components and, in the end, having an optimal combination of schedule, affordability and low risk throughout the entire lifecycle," Griffin said during a briefing ahead of this week's Association of the United States Army conference.
Currently, the Army's Directed Energy Maneuver Short-Range Air Defense (DE M-SHORAD) program is focused on a prototyping effort with Kord Technologies providing the 50-kw laser system and Raytheon Technologies [RTX] serving as the laser module integrator, with plans to plans to deliver a platoon of four laser-equipped Strykers by the fall of 2022.
In August, Army officials told reporters Raytheon was moving forward on DE M-SHORAD, with Northrop Grumman [NOC] having been dropped from the program before a shoot-off evaluation this summer for failing to meet a required gate criteria during a quarterly assessment (Defense Daily, Aug. 18). 
The Army's Rapid Capabilities and Critical Technologies Office (RCCTO) is currently leading the prototyping effort for DE M-SHORAD, which is intended to deliver a on-the-move laser system capable of taking down unmanned aerial systems, rotary-wing aircraft and rockets, artillery and mortars, before it's transitioned over to Army Program Executive Office for Missiles and Space for the production program of record.
"We see a competition for a program of record on the horizon. The RCCTO and PEO Missiles and Space have been very clear about that," Griffin said. "The competition we're looking at here is after that Army unit of action gets the four prototypes there will be a set of documents, a technical data package and overall threshold requirements that will be handed off to PEO Missiles and Space. And that's why Lockheed Martin is investing today to prepare for that competition when it transitions from the RCCTO's unit of action to the Army program of record."
Lockheed Martin plans to have a "virtual twin" version of DEIMOS ready in December ahead of demonstrating the capability in the field in late 2022, according to Griffin.
Griffin said Lockheed Martin is also leveraging its experience working on laser programs such as the Army's Indirect Fire Projection Capability-High Energy Laser, the Navy's HELIOS and the Air Force's Airborne High Energy Laser to help inform the ruggedization and low size weight and power requirements for the DE M-SHORAD program. 
"We want to bring these lessons learned to this ground-based environment and bring those investments forward," Griffin said. "We are leveraging things like virtual reality and digital twin technology to design faster, and to innovate more efficiently than was ever previously possible."
Last week, Lockheed Martin announced it has delivered the new Airborne High Energy Laser to the Air Force for flight testing on an AC-130J aircraft following a successful factory acceptance testing period (Defense Daily, Oct. 6).