Lockheed Martin [LMT] on Wednesday will conduct its farthest test shot to date with the new Precision Strike Missile (PrSM), with the demonstration set to reach a range of 499 kilometers. 
Paula Hartley, Lockheed Martin's new vice president for tactical missiles, confirmed the date to reporters a day ahead of the maximum range flight test at Vandenberg Space Force Base in California, which will be followed by the first side-by-side PrSM firing test next month.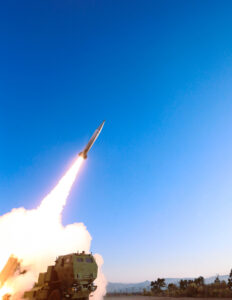 "I can't tell you how excited we are to demonstrate PrSM's capability in this very extended range," Hartley said during a media briefing at the Association of the United States Army conference.
The max range PrSM flight test follows the Army's approval to move the program into the Engineering and Manufacturing Development (EMD) phase and the award for the set of early operational capability missiles in September (Defense Daily, Oct. 1). 
"This will make sure we can service the Army's 2023 target fielding date to the warfighter. The EMD award moved the program to the next phase of development and will include system qualification and manufacturing readiness activities, which will culminate in a fully-qualified system. EMD will also include production qualification testing, flight and ground tests," Hartley said.
The deal for the initial EOC capability is expected to cover around 20 missiles, according to the company.
PrSM is the Army's program to replace its legacy ATACMS missiles, also built by Lockheed Martin, with service officials noting the base weapon could be asked to reach ranges out past 500 kilometers, while subsequent technology spirals may push to ranges of 700 to 800 kilometers.
"The requirement with the customer right now is 499 kilometers," Hartley said. "Lockheed Martin would partner with the Army to establish exactly what it would take – hardware, software –  to enable a range beyond what is planned tomorrow."
Lockheed Martin has completed four total flight tests with PrSM to date, most recently reaching a range of 400 kilometers during a demonstration at White Sands Missile Range in New Mexico in May (Defense Daily, May 12). 
November's side-by-side missile shot with PrSM is part of the Army's second Project Convergence demonstration, which looks to test the service's new capabilities to build out a rapid sensor-to-shooter capability.