The Army may look at the possibility of adjusting the schedules of its modernization programs as a means to create budget flexibility, the service's secretary said Monday, while adding the priority remains protecting the full range of signature systems in development.
During a press conference at the Association of the United States Army conference, Army Secretary Christine Wormuth said senior leaders will have to "look at everything" as the service continues its push to transform for a future focus on strategic competition and Multi-Domain Operations facing a potential tighter budget environment.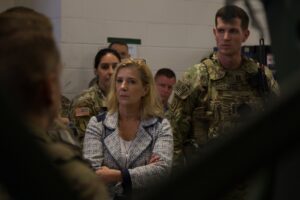 "Certainly, we would be looking at the possibility of the schedules of different programs as a way that possibly gives us flexibility," Wormuth told reporters. "We're looking at everything, and we have to look at everything. So it's not just our modernization. We have to look at our infrastructure and where could we generate efficiencies there. We have to look at things like readiness and how are we defining what readiness is and executing our readiness."
Earlier this year, Army officials said stretching the delivery schedules of its modernization platforms to save costs could become an option if the service is faced with a significant reduction in topline spending, noting that further cuts to legacy and enduring programs will become more difficult (Defense Daily, May 14).
Wormuth noted the Army is conducting an analysis of its programs, to include the "31+4" signature systems in development, and said any such adjustment decision would be based on cost and schedule parameters as well as the affordability of scaling up from prototypes into production.
In September, Wormuth said the service will have to "look really carefully" at the future funding for its full slate of more than 30 modernization programs as it makes potential program cuts (Defense Daily, Sept. 8).
"There are definitely, I think, going to be more tough choices ahead, but we're also trying to find savings wherever we responsibly can and also trying to be innovative in how we're managing the many demands on our budget," Wormuth said at the time.