The State Department has approved a potential $600 million deal with Ukraine for 16 Mark VI patrol boats and associated equipment.
The Defense Security Cooperation Agency notified Congress of the foreign military sale on Wednesday.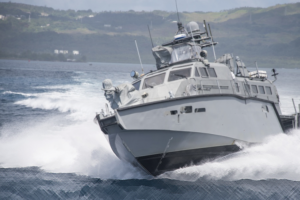 Under the deal, Ukraine will also receive 32 MSI Seahawk A2 gun systems, 40 MK44 cannons, 20 FLIR [FLIR] Electro-Optics/Infrared Radars, Long-Range Acoustic Device loudspeaker systems and 16 Identification Friend or Foe systems.
"The proposed sale will improve Ukraine's capability to meet current and future threats by providing a modern, fast, short-range vessel. Ukraine will utilize the vessels to better defend its territorial waters and protect other maritime interests," DSCA officials wrote in a statement.
SAFE Boats International is the prime contractor for the deal.