The House Appropriations Committee voted 33 to 23 on Tuesday to approve its $706 billion fiscal year 2022 defense spending bill, following a markup where the panel's Republicans took aim once again at the topline for falling below previous calls to meet 3 to 5 percent annual budget growth
Top GOP leaders on the committee voiced their opposition to the measure, with several lawmakers calling the topline "effectively a cut" from current spending levels when factoring for inflation.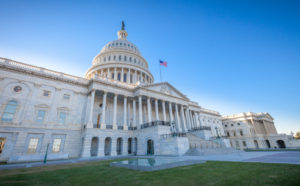 "Republicans are opposed to this funding level because we are acutely aware of the readiness and modernization challenges facing each of the services," Rep. Ken Calvert (R-Calif.), the House Appropriations Defense subcommittee (HAC-D) ranking member, said during the markup. "Over the past year, inflation has been roughly 2 percent and economists expect inflation to continue to rise for the foreseeable future. In FY '21, we enacted $696 billion for defense. A flat budget accounting for 2 percent and, most likely, accounting for 3 percent inflation would be around $710 billion. The bill we're marking up today is currently at $706 billion."
HAC had approved just three amendment to its bill during Tuesday's markup, including a package of bipartisan provisions offered by HAC-D Chairwoman Rep. Betty McCollum (D-Minn.) that was passed by voice vote.
That measure included adding bill report language calling for the Navy to "expeditiously enter" into a new contract for a block buy of amphibious ships covering procurement of three San Antonio-class amphibious ships and one America-class amphibious ship. The ships are built by Huntington Ingalls Industries [HII].
The amendment package also includes directing the Navy to conduct a study on how requiring a "Buy American" provision for certain equipment would affect its current domestic industrial partners and their supply chains.
The committee also adopted two amendments from Rep. Barbara Lee (D-Calif.) by voice vote that would repeal both the 2001 and 2002 Authorization for Use of Military Force.
The $706 billion bill, which roughly matches President Joe Biden's $715 billion requested Pentagon budget when combined with the separate $11 billion proposal for military construction, includes a $1.7 billion procurement boost over the budget request, restores funding for a second new Navy destroyer and cuts the sea-launched nuclear cruise missile program (Defense Daily, June 29).
Rep. Kay Granger (R-Texas), the top Republican on the full committee, also said the topline is "far too low," and reiterated the 3 to 5 percent budget growth number which was originally put forth by the commission that formulated the 2018 National Defense Strategy.
On the budget growth criticism, McCollum pushed back and noted the Pentagon's senior leaders have affirmed that the funding level in the bill would meet national security requirements.
"In my opinion, we have landed on a reasonable, responsible topline number that makes these critical investments in our people. It maintains a strong national security posture today and for the years to come," McCollum said. "To my friends who say that the funding in this bill is not enough I would point out that I have asked both [Defense] Secretary Austin and [Joint Chiefs] Chairman Milley directly, 'Is President Biden's proposed 1.4 percent increase a sufficient number to meet our national security needs?' Both the secretary and the chairman said yes, that this topline will ensure our national security. I believe them and I trust their judgment."
Calvert and Rep. Tom Cole (R-Okla.), HAC's vice ranking member, specifically cited concerns regarding the bill's reduction in funding for Abrams tanks upgrades, the Army's Paladin Integrated Management program and only funding the build of eight new Navy ships rather than 12 to 14 platforms.
"In the end, however, from a big picture perspective, the topline for this particular defense bill is simply too low. Many critical needs were left unmet in this bill," Cole said. "This is a good start but we're going to need to do more to get to where we need to go in this particular budgeting cycle."
The topline also faced scrutiny from progressive lawmakers, including Progressive Caucus Chair Rep. Mark Pocan (D-Wis.) who said he will support the measure with the idea that reining in defense spending would receive broader attention when the bill is brought before the full House floor.
"I'm going to vote today to move this forward so that all of Congress can have a say on this bill, but I do think that we spend too much on the Pentagon and we don't have adequate oversight over their funding like we do in other agencies," Pocan said. "We just spend too much on what is defined as 'traditional defense,' and many of us in the country and Congress would like to redefine defense [in terms of] what's actually in the defense of this country. It's not defense contractors, but things like pandemics and climate change. And we should be redirecting some of those defense dollars toward those items."