President Biden has nominated Gabe Camarillo, a current senior vice president at Science Applications International Corp. [SAIC], to serve as the Army's next under secretary.
Camarillo previously served as the principal deputy assistant secretary in the Army's procurement office from 2012 to 2015, where he helped lead the service's research and development and modernization portfolio, according to the White House.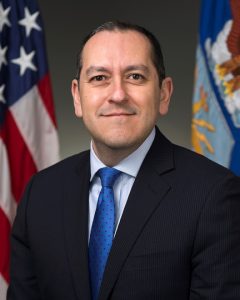 In 2015, Camarillo then shifted over to the Air Force after he was appointed to the role of Assistant Secretary for Manpower and Reserve Affairs.
Camarillo will serve alongside Army Secretary Christine Wormuth, who was confirmed on May 27 as the service's first female secretary. 
Biden also announced on Tuesday he has also selected Jeff Flake, the Republican former senator from Arizona, to serve as the administration's ambassador to Turkey.
Flake, who served in the House from 2001 to 2013 and then the Senate through 2019, served on both the Senate Foreign Relations Committee and the House Foreign Affairs Committee and was a frequent critic of the Trump administration during his time in Congress.
"Given the strategic importance of the United States' relationship with our long-time NATO Ally, the Republic of Turkey, I am honored and humbled by the trust President Biden has placed in me with this ambassadorial nomination," Flake wrote in a post regarding his nomination. 
Flake is set to face the U.S.' ongoing pushback on Turkey's decision to purchase the Russian-made S-400 air defense system which led to Ankara's removal from the F-35 program.