Army Secretary Christine Wormuth has signed a new directive to more narrowly define Futures Command's role in a push to reduce ambiguity and reassert the service's acquisition office as the lead driver for programs of record.
The memo, first reported by Breaking Defense,
eliminates previous language from earlier guidance that established Futures Command as "leading the modernization enterprise" and reiterates that the assistant secretary of the Army for acquisition, logistics and technology (ASA(ALT)) office owns both acquisition and oversight of research and development (R&D) efforts.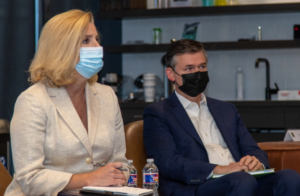 "Though intended to build momentum, this guidance primarily addressed roles arising early in the equipping lifecycle, when requirements are evolving and experimentation takes place. It did not adequately account for the shifting roles and functions as requirements move into development as programs of record through production, fielding, and sustainment," Wormuth writes in the memo.
Lt. Col. Brandon Kelley, an Army spokesman, told Defense Daily the memo is intended to provide "a clearer definition to ensure consistency and compliance with both policy and statute," with the new directive reasserting the civilian-led ASA (ALT) office as decisionmaker for resourcing R&D and procurement programs.
"With the initial establishment of Army Futures Command, the Army issued a number of policy directives to accelerate its development and address AFC's role in the Army modernization. While well-intentioned, this guidance had the unintended consequence of creating ambiguity in long-established acquisition authorities. This administrative change eliminates that ambiguity with clearly defined roles consistent with statute, and will better facilitate collaboration in our modernization and equipping enterprise," Kelley said.
The Austin, Texas-based Army Futures Command was established in 2018 as the service began pursuing its ambitious modernization overhaul, with the new command tasked with leading eight cross-functional teams focused on priorities such as the tactical network, future vertical lift, next-generation combat vehicles, integrated air and missile defense, long-range precision fires, soldier lethality, synthetic training environment and assured position, navigation and timing.
Kelley noted Futures Command will continue to be responsible for force design and development and remains the "capabilities developer and operational architect for the future Army."
The memo notes the command general of Futures Command will continue to be responsible for the operation of the Army's research laboratories and centers.
"We are committed to keeping momentum on our modernization programs. Success requires significant contributions from multiple Army commands and organizations, especially as we begin transitioning prototypes into new fielded systems. This directive emphasizes the 'team approach' we believe is required for success and ensures that we remain clear on statutory roles and responsibilities," Kelley said.