Army Secretary Christine Wormuth told lawmakers Thursday that senior service leaders disagreed with the Pentagon Inspector General's recent report stating soldiers may not want to use the new Integrated Visual Augmentation System (IVAS), reiterating she is " pretty comfortable" with the program's status.
"We didn't fully agree with some of the [DoD IG] findings," Wormuth told the Senate Armed Services Committee. "We didn't particularly agree with the characterization that soldiers were not going to use IVAS ultimately. I mean, again, I think one of the things the Army has done very well is to try to have a more soldier-centered design process across the board and to allow us to get that kind of feedback. So I think it was just a bit of an over-characterization by the inspector general on that particular point."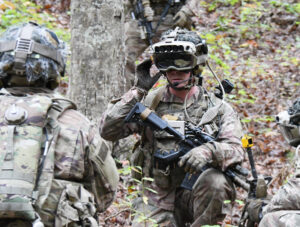 The DoD IG released the report on its audit of the IVAS program last month, finding the Army "did not define minimum user acceptance levels" for the new Microsoft [MSFT]-built augmented reality headset (Defense Daily, April 22).
The report noted the Army's acquisition office did not fully agree with the recommendations proposed in the report, to include issuing policy around user acceptance measurements, arguing similar criteria exists in regulations around evaluating a system's effectiveness and suitability.
Sen. Jeanne Shaheen (D-N.H.) pressed Wormuth on whether she agreed with the DoD IG stating that a lack of minimum user acceptance levels risks potentially 'wasting' $22 billion if soldiers don't want to use the new headset.
"I understand the need to continue development and that the IVAS system is what appears to be the future, but I also understood that the [research, development, test and evaluation] for that had not been adequately completed. So we're investing in a system that we're not sure is going to work and we're not sure we have enough of the old system or the current system to address the soldiers' needs. So I'm really not convinced on your argument," Shaheen said.
Last October, the Army confirmed it planned to delay IVAS' operational evaluation to May and the first unit equipped date to September 2022 (Defense Daily, Oct. 14).
Wormuth noted IOT&E for IVAS is now set to start this month and will go through June.
"We'll be looking carefully at those results to inform, ultimately, where we go with IVAS," Wormuth said. "I feel pretty comfortable with where that program is. We've been working very closely with Microsoft. And I think that program is on track and that we've actually gotten quite a bit of good feedback from soldiers as we've worked to develop IVAS."
Lawmakers have already placed $350 million of the total $405.1 million for IVAS procurement in FY '22 on hold until the completion of IVAS' initial operational test and evaluation and after Army officials brief Congress on the status of the program (Defense Daily, March 14).
Shaheen prefaced her question on IVAS citing concerns over the Army's decision to not include funding for the Enhanced Night Vision Goggle-Binocular (ENVG-B) in its FY '23 budget request.
"I'm concerned that this decision not only harms our soldiers by limiting access to more advanced night vision systems but also affects our nation's already limited night vision manufacturing industrial base," Shaheen said.
Wormuth said Army leadership concluded it had procured the number of night vision goggles "that we thought would meet our requirements."
"Again, a lot of what we're trying to do with the resources that we have is to balance between making sure that we continue to have resources to invest in the new modernization programs as well as continue to invest in some of the enduring systems that we have. So that is always a bit of a tightrope for us. And those dials are ones that we may be able to adjust through things like items that are on the unfunded priorities list."
Shaheen noted the Army's $5.1 billion unfunded priorities list for FY '22, which includes ENVG-B, states that "a lack of funding decreases soldier's survivability" and "places the manufacturer at risk of closing the production line."
In October 2020, L3Harris [LHX] and Elbit Systems of America each received production deals worth potentially $442 million from the Army to deliver ENVG-B devices to begin replacing its legacy monocular night division devices (Defense Daily, Oct. 22 2020).
L3Harris produces its ENVG-B devices in Londonderry, New Hampshire, with Shaheen previously saying she would "continue working in Congress to guarantee our warfighters have the technology they need to ensure success and that New Hampshire stays on the frontlines of producing cutting-edge technology."