L3Harris [LHX] and Elbit Systems of America have each received production contracts worth potentially $442 million from the Army to deliver the next-generation Enhanced Night Vision Goggle-Binocular (ENVG-B) devices.
The Other Transaction Authority (OTA) agreements were announced Thursday, with the Army looking to replace its legacy monocular night division devices with a system designed for enhanced mobility, networked connectivity and upgraded thermal engaging technology.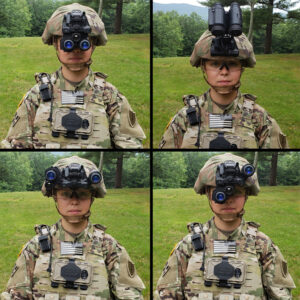 "We are pleased with the Army's continued confidence in L3Harris as an industry partner on this critical program for the close combat soldier. We look forward to working with the Army on this new requirement as we continue to deliver combat-ready ENVG-B systems under the Directed Requirements contract," Lynn Bollengier, L3Harris' president of integrated vision solutions, said in a statement.
L3Harris previously received a $391 million ENVG-B Directed Requirement contract in 2018 for urgent fielding and has completed deliveries of the night vision devices to two units under that deal, with a third unit set to receive the system starting in early November.
Bollengier has previously told Defense Daily the company received positive feedback on ENVG-B from soldiers who have already received the night vision devices, including for the system's wireless connection with weapon sights and the improved white phosphor image intensifier tubes.
"The feedback that we've received from those events have been very good," Bollengier said. "The first thing they notice is the dual-tube stereoscopic vision, and that helps them navigate better and move faster. It gives them better depth perception, which they don't really get with the monocular system."
Elbit Systems of America will now also produce ENVG-B with the new OTA, with the company noting it has already received an initial $22.5 million low-rate production order.
"The selection of the ENVG-B systems by the U.S. Army is a testament to the quality of Elbit Systems of America's technologies and their unique operational contribution. This contract award demonstrates the significant potential of our night vision activities," Bezhalel Machlis, CEO of Elbit Systems, said in a statement.
For the Marine Corps, Elbit Systems of America is also delivering the new Squad Binocular Night Vision Goggles under a five-year, $249 million deal.
ENVG-B is also expected to integrate with the Army's future augmented reality headset, the Integrated Visual Augmentation System and the Adaptive Squad Architecture efforts, to build out a "networked soldier" architecture.