The U.S. and U.K. Navy service chiefs agreed to a Statement of Intent (SOI) on Oct. 21 to endeavor to move from interoperability and cooperation toward having interchangeable forces and capabilities.
The agreement, called a "Statement of Intent Regarding Future Integrated Warfighting" (FIW), notes both sides have worked on a shared cooperative vision document since 2014 called "Combined Seapower" and that was succeeded by "Delivering Combined Seapower" for more collaboration in 2016.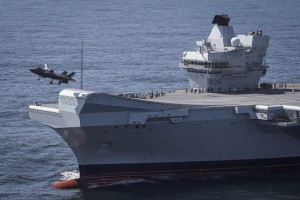 However, the navies now said given a different geopolitical climate and a accelerating technological landscape, "a revised vision enables more focused and agile cooperation ensuring interoperability and interchangeability from the earliest phases of equipment and doctrine development."
While they said they have a "mature and institutionalized" interoperability relationship now, to keep up with modern threats and fight as a cohesive force, "we should endeavor to progress from interoperability towards interchangeability."
This SOI was the outcome of a bilateral strategic dialogue between Chief of Naval Operations Adm. Michael Gilday and his counterpart, the U.K. First Sea Lord and Chief of Naval Staff Adm. Anthony Radakin, on Oct. 21 following their remarks at the Atlantic Future Forum event.
"This positive step should enable critical force elements to become transposable; from ships of one navy operating in the other navy's taskforces, to manned and unmanned vehicles operating from the decks of each other's ships for refueling, re-arming and re-tasking. The exchange of capability must be frictionless and immediate, allowing operational commanders to trust the assets they have at all times," the document said.
The document has a Line of Engagement that aims to do this by building on established cooperation to drive quicker and more focused change "in the way we collaborate with the intent of delivering tangible outcomes that enables seamless interchangeability between our two navies."
The document said existing and future bilateral activities should be more outcome-focused and deliver at a faster clip, with timelines pointing to near, mid, and long-term activity that would be mutually determined.
The navies said they should examine specific focus areas like digital transformation; artificial intelligence; increased lethality including high speed weapons, directed energy, and advanced terminal defense solutions; autonomy and remotely piloted systems; and assured C2 and integrated fires.
The document said this SOI will remain in effect for 10 years if not extended, amended, or terminated. Either side can terminate it with a 90-day notice.
Gilday noted there is a long tradition of the U.S. and U.K. navies sailing together around the world.
"After months of hard work on both sides of the Atlantic, we are pleased to sign this Statement of Intent that will set a cooperative vision for interchangeability. By organizing our cooperation together on Carrier Strike, Underwater Superiority, Navy-Marine integration as well as future warfighting efforts like unmanned and AI, we will remain on the leading edge of Great Power Competition."
Radakin agreed with the sentiment.
"In an increasingly contested world, alliances and partnerships such as that between the U.K. and the U.S. are vital. We have already proven how closely we can work together, from developing our carrier strike capability to jointly demonstrating freedom of navigation around the world," Radakin said in a statement.
"Now, as we move towards every greater interchangeability, I am excited by the opportunities to strengthen and deepen our partnership today and in the years to come," he added.