FLIR Systems [FLIR] is interested in providing technology and potentially partnering with a prime contractor for the Army's Optionally Manned Fighting Vehicle (OMFV) program, company officials told reporters Thursday.
"FLIR has a lot of technology that is applicable to OMFV," said Tom Frost, FLIR's vice president of unmanned ground systems and integrated solutions. "We are certainly open to teaming on OMFV and providing that technology to various partners."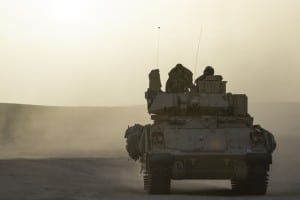 OMFV is the Army's program to replace its Bradley fighting vehicles. The service canceled its original acquisition effort earlier this year, and has since relaunched the competition with a focus on digital designs rather than physical prototype and plans to award up to five contracts in June 2021.
Troy Boonstra, the company's vice president of product management for sensors, said the company's latest upgrades and offerings for its suite of thermal imaging and situational awareness sensors could be applicable for the Army's eventual OMFV requirements.
FLIR is also currently part of a Textron Systems [TXT] team, along with Howe & Howe, that's delivering the Ripsaw M5 platform for the Army's Robotic Combat Vehicle-Medium prototype effort.
"As Textron moves forward in the RCV-Medium competition and we start to show more and more of this capability, for example there's a gimbaled sensor on there and other things we have on that platform, it becomes sort of a demonstration platform as well for future capability. And we're certainly monitoring OMFV closely," Boonstra told reporters.
Officials from the Textron team told reporters earlier this month the first RCV-M prototype will be delivered to the Army before the end of the year (Defense Daily, Oct. 8). 
Germany's Rheinmetall said Tuesday it has teamed with Textron to offer its Lynx infantry fighting vehicle for OMFV (Defense Daily, Oct. 20).