The head of Army Futures Command said Monday it's "too early to say" if the Biden administration will look to adjust the service's modernization plans, while adding he's confident the Army will be able to stick with its full slate of future weapon systems programs facing a tighter budget environment.
"We fully understand that a new administration coming in is going to bring new priorities, or as a minimum a reprioritization of the things we're working on. So there's going to be a lot of change. But I also like to think there's going to be a lot of things that don't change for the Army," Gen. Mike Murray said during a Center for Strategic and International Studies discussion. "We have not changed our modernization priorities from the time they were formed and I have a firm commitment from the chief of staff of the Army that we will not change our modernization priorities."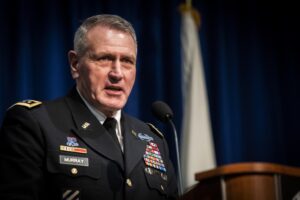 Murray is tasked with overseeing the Army's ambitious modernization push to develop more than 30 new signature systems, ranging from Future Vertical Lift aircraft to the Bradley-replacing Optionally Manned Fighting Vehicle, with the Army shifting billions of dollars in recent years to ensure full funding for development efforts.
"I think it's too early to say that we can't do it. Now, I answer that from a fiscal standpoint. Most people are assuming, and it's probably a good assumption, that DoD's topline is not going to grow, at a minimum, and it's probably going to go down," Murray said.
Last week, Army Chief Gen. James McConville made similar remarks that the service won't "have a dollar to waste" on modernization as signs point to likely flat or declining budgets in the coming years (Defense Daily, Jan. 19).
Murray, who noted the 30-plus programs remain on track despite the pandemic, said he doesn't believe Futures Command will need to prioritize among the different initiatives if spending cuts are imminent.
However, Murray said if the Biden administration were to update the National Defense Strategy any potential changes could inform how the Army would need to assess its modernization portfolio.
"We are going to do as much as we possibly can to continue to fully fund our priorities moving forward," Murray said.
Murray echoed recent comments from former Army Secretary Ryan McCarthy, who left his post last week, that the service is facing "borderline contentious" divestiture decisions in coming years to keep fully funding modernization (Defense Daily, Oct. 7).
"The Army has made some really tough choices over the last three years to align our resources against our most important priorities, and there's a case to be made out there that we did it right. I think we're on a great path from a modernization standpoint," Murray said. "As hard as the decisions have been over the last three years, there's no easy decisions coming up for our senior leaders in terms of where those resources will come from if [cuts] are significant enough to force them to make those choices."