House appropriators on Tuesday released their $706 billion fiscal year 2022 defense spending bill, which would boost procurement spending by $1.7 billion over the president's budget request, restore funding for a second new Navy destroyer and cut the sea-launched nuclear cruise missile program.
The bill, which will be marked up by the House Appropriations Defense Subcommittee (HAC-D) on Wednesday, roughly matches the president's $715 billion requested Pentagon budget when combined with the separate $11 billion proposal for military construction.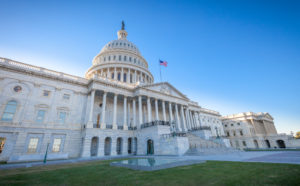 "Democrats have landed on a responsible funding level for the Department of Defense that maintains a strong national security posture today, while making important investments in modernization that will make us even stronger in the years to come," Rep. Betty McCollum (D-Minn.), the HAC-D chair said in a statement.
Overall, the bill includes $134.4 billion for procurement, $254.3 billion for operation and maintenance and $110.4 billion for research and development, which is $1.6 billion less than was in the budget request but $3.2 billion above the FY '21 enacted level. 
Notably, the bill does not plus up the F-35 fighter buy and instead fully funds the budget request of $8.5 billion for 85 new aircraft.
The bill, however, does add funding to buy four more C/KC/MC-130J tankers, six more MQ-9 Reaper drones and two more CH-53K helicopters than was requested.
For shipbuilding, the bill adds $915 million above what was requested for a total of $23.5 billion to cover two total destroyers, two SSN-774 attack submarines, one frigate and several other platforms.
The lack of funding for a second destroyer in the president's budget request has faced scrutiny from lawmakers over the last several weeks, to include concerns on the impact to the industrial base, with Defense Secretary Lloyd Austin noting the decision would likely cost the Pentagon a $300 million penalty to break away from the current multi-year procurement agreement (Defense Daily, June 17). 
The bill eliminates funding for the Navy's sea-launched cruise missile program, which received $15 million for development in the president's budget request, and is likely to face pushback from Republican lawmakers who have staunchly defended the program during recent hearings amid news that Acting Navy Secretary Thomas Harker proposed cutting the initiative in a memo. 
Pentagon leadership told lawmakers they were not consulted on the memo and that any potential adjustment to the program would be informed by the administration's upcoming nuclear posture review (Defense Daily, June 10). 
Following Wednesday's HAC-D markup, the full House Appropriations Committee is set to consider the bill on July 13.