Senate Democrats on Monday released their $726 billion fiscal year 2022 defense appropriations bill, which drew a quick rebuke from GOP lawmakers over the five percent increase in military spending relative to the 13 percent boost in non-defense spending across other bills.
When factoring in the $726 billion bill with the already approved $11 billion in FY '22 military construction appropriations legislation, the Senate Appropriations Committee has now roughly matched the Senate and House Armed Services Committees moves to approve a $25 billion topline increase in their respective defense policy bills.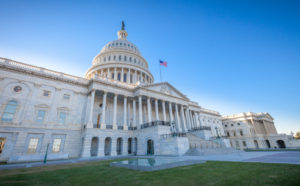 "This defense bill strengthens our military and ensures the brave men and women that protect this country have the resources they need to keep Americans safe. It makes key investments to address the most pressing needs of our military so we don't lose ground to our adversaries, like China. It also makes common-sense cuts to underperforming programs and instead focuses on ensuring that our troops are well trained and well equipped with the most up to date technology. It's critical that we work together to move this bill forward to protect our nation," Sen. Jon Tester (D-Mont.), chair of the Senate Appropriations Defense Subcommittee, said in a statement.
The $726 billion for defense spending, which was one of nine appropriations bills released Monday, represents a $10 billion increase over the president's requested $715 billion base defense budget, which represented a 1.7 percent increase.
Sen. Richard Shelby (R-Ala.), the top Republican on the Appropriations Committee, noted his opposition to the bill for its lack of parity between defense and non-defense spending increases.
"[Appropriations] Chairman [Patrick] Leahy's (D-Vt.) decision to unilaterally unveil partisan spending bills is a significant step in the wrong direction. This one-sided process has resulted in bills that spend in excess of the Democrats' own budget resolution and fail to give equal consideration to our nation's defense," Shelby said in a statement. "We need a topline agreement that does not shortchange our nation's defense and a willingness to set aside partisan politics. Only then will we be able to produce full year bills for the American people. Otherwise, we will oppose these partisan drafts. The clock is ticking."
The swift GOP opposition over the proposed spending bill is likely to add to further gridlock with a government shutdown deadline looming on Dec. 3, which followed Congress' passage of a continuing resolution with just hours to spare before the end of the fiscal year last month (Defense Daily, Sept. 30).