Nuclear weapons spending should be kept at a minimum until the White House finishes a review of the arsenal in January, but the Air Force's next-generation intercontinental ballistic missile program should be left alone, for now, the chair of the House Armed Services Committee said Tuesday.
On the other hand, the service should avoid a "big leap" on the Long Range Standoff weapon, a proposed, nuclear-tipped air-launched cruise missile, until after the Biden Administration's nuclear posture review is done, Rep. Adam Smith (D-Wash.) told the press Tuesday during a virtual roundtable hosted by the Washington-based Defense Writers Group.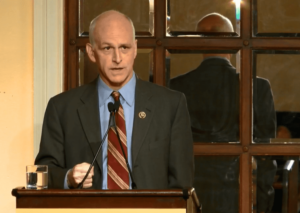 Media reported this week that the Air Force was poised to award a contract to build the first copies of the new Long Range Stand Off (LRSO) cruise missile to Raytheon Technologies Corp. [RTX], which is based in Waltham, Mass.
Meanwhile, Smith said the Ground Based Strategic Deterrent (GBSD) ICBM procurement, awarded last year to Northrop Grumman [NOC] of Falls Church, Va., should continue unchanged at least until after the nuclear posture review.
"[W]e're not going to kill the GBSD program," Smith said Tuesday. "Minuteman III will be fine for a little while [but] that does not mean that we need to have as many [intercontinental ballistic missiles] as the previous posture review suggested, or even that we need that leg of the triad."
Generally, Smith said, "I would support spending the least amount of money possible to keep our options open, depending on what the president decides in the nuclear posture review, and also depending on what he could begin to negotiate with Russia or China on arms control agreements."
The Biden administration's 2022 budget request, released May 28, does not really reflect Smith's preferences for near-term nuclear weapons spending. Neither does a 2022 appropriations bill released Tuesday by the House Appropriations Committee. Each would essentially continue the spending trends the Trump administration forecast for the fiscal year that starts Oct. 1.
Under the committee's bill, GBSD would get some $2.5 billion, around $100 million less than requested but nearly $1 billion more than the 2021 budget. The cruise missile would get about $580 million, which is $25 million less than requested but more than $100 million above the 2021 appropriation.
The full House Appropriations Committee was scheduled to mark up the subcommittee's bill on July 13. At deadline, the House Armed Services Committee that Smith chairs was not scheduled to mark up its annual National Defense Authorization Act, the policy bill that accompanies the Pentagon's annual appropriation, until September.