The House Appropriations Committee has released its $694.6 billion defense spending bill ahead of a mark-up hearing on Wednesday, including $758 million to assist industrial base suppliers affected by the pandemic and details to procure additional F-35s and boost shipbuilding funds.
The bill, which arrives $3.7 billion below the president's budget request, includes $140.1 billion toward procurement and $104.3 billion for research, development, testing and evaluation spending.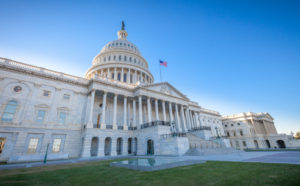 For the F-35 program, lawmakers call for $9.3 billion in the bill to cover 91 aircraft, which is 12 more than was included in the president's budget request.
The panel provides $758 million under procurement specifically to "mitigate the impacts of COVID on second, third, and fourth tier suppliers in the Defense Industrial Base."
The Pentagon's top acquisition official has previously said covering industry's COVID-related claims may veer into "low double digit billions of dollars." 
HAC also funds $1.1 billion for 11 V-22 tiltrotors, two more than requested, as well as $965 million for 11 C-130Js, also two more than the original request. The bill also appropriates over $1 billion for nine CH-53K helicopters, two more than had been requested.
Lawmakers also include $227 million for five CH-47F Block II Chinooks and long-lead funding for the subsequent five aircrafts "to ensure that the Army stays on schedule with the program of record." 
The bill also restores $344 million to fund procurement of 16 MQ-9 Reaper drones.
For shipbuilding, HAC provides $22.3 billion, $2.4 billion above the request, to fund nine Navy ships.
HAC's bill covers funds for "two DDG-51 guided missile destroyers, the initial Columbia Class submarine, two SSN-774 attack submarines, one Frigate, one LPD-17 Flight II, and two towing, salvage, and rescue ships." 
For Army Stryker vehicles, HAC added $375 million above the request to cover over $1 billion toward upgrading 259 vehicles. 
The bill also provides $1 million to the Army for renaming installations named after Confederate leaders "since the Army has the preponderance of the entities to change."