A bipartisan group of lawmakers is pressing the Pentagon on its timeline for removing Turkey from the F-35 program after the department missed its deadline in March to phase out the country from the supply chain.
Sens. Jeanne Shaheen (D-N.H.) and James Lankford (R-Okla.) sent a letter Monday to Defense Secretary Mark Esper seeking clarification on the timeline and expressing concerns that a full removal could be delayed out to 2022.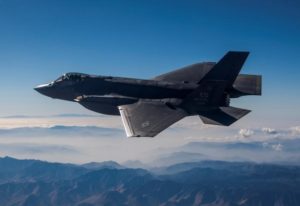 "Unfortunately, Turkish manufacturers are still producing and delivering key components of the aircraft despite the statutory prohibition on such participation in [the] manufacturing line of the program. We believe more urgency is needed and hope you will accelerate the process to ensure a more prompt removal," the lawmakers wrote. "As evidenced by the delays, the wind-down has been neither disciplined nor punctual. The Department's postponements of this expulsion has undermined the effectiveness of our clear national message to the Turks on this matter."
The White House and Pentagon announced plans last summer to remove Turkey from the F-35 program, following Ankara's purchase of the Russian-made S-400 missile defense system, to include spending $500 million to $600 million to find alternative supply chain sources (Defense Daily, July 17).
Pentagon officials told lawmakers in November the department expected to fully phase out Turkey's participation by March 2020 (Defense Daily, Nov. 14).
In their letter, Shaheen and Lankford note the Pentagon announced in January it would have to push back that deadline as Turkey would manufacture some components beyond March.
The lawmakers add that a contracting officer for the F-35 Joint Program Office informed Lockheed Martin [LMT] in February that it may continue delivery of parts from Turkey to complete requirements for Lots 12 to 14, which Shaheen and Lankford wrote could delay Turkey's full exit until 2022.
"Based on recent revelations, it is clear that the Pentagon is not following its own timeline or the intent of Congress in this matter. We encourage you to reexamine the present approach and take action to ensure an expedited removal of Turkey from the manufacturing line as required by law," the senators wrote.
Lankford and Shaheen ask the Pentagon to detail the February order to continue allowing Turkish parts for Lots 12 to 14, as well as calling for a list of all active contracts with Turkish manufacturers and when those are set to expire.
Sens. Thom Thillis (R-N.C.) and Chris Van Hollen (D-Md.) joined Shaheen and Lankford in signing the letter.