The Senate Armed Services Committee (SASC) will hold its full committee markup for the fiscal year 2022 National Defense Authorization Act (NDAA) during a closed session on July 21, the panel's leadership announced Thursday.
The NDAA markup, which may be extended to July 22 if needed, will follow SASC subcommittee markups on July 19 and 20.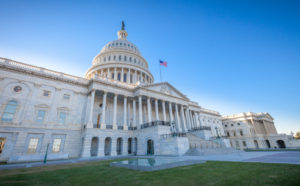 SASC's Readiness and Personnel panels will meet on July 20 to consider their portions of the defense policy bill, which will be the only two markups conducted in an open session.
The Strategic Forces and Cybersecurity subcommittees will meet on July 19 and the Airland, Emerging Threats and Capabilities and Seapower panels on July 20, all behind closed doors.
"Enacting the National Defense Authorization Act is critical to our national security, and the markup is a crucial part of a multi-step process. Along with Ranking Member Inhofe and our colleagues on the Committee, I am committed to upholding our tradition of robust, careful deliberation and strong, bipartisan support to ensure we have needed policies and reforms in place and that we are providing our servicemembers with the resources, training, equipment, and capabilities they need to achieve their missions and protect American families," Sen. Jack Reed (D-R.I.), the SASC chairman, said in a statement.
The House Armed Services Committee previously announced plans to push back its NDAA markup process to September 1 due to the delayed submission of the president's budget request, while its subcommittees will meet for their individual marks on July 28 and 29 (Defense Daily, June 15).
Rep. Adam Smith (D-Wash.), the HASC chairman, had been vocal in urging the White House to deliver its budget request by mid-May, previously saying he doubts Congress would forgo its August recess and predicting that the delay would almost certainly lead to starting the next fiscal year under a continuing resolution (Defense Daily, April 22).
The White House eventually released its full FY '22 budget request, including $715 million for the Pentagon, on May 28.
The House Appropriations Defense Subcommittee advanced its $706 billion FY '22 spending bill on June 30, with the full committee set to consider the legislation on July 13 (Defense Daily, June 30).