The Pentagon is continuing to urge Congress to appropriate nearly $11 billion to help cover the defense industry's COVID-related costs, arguing the department's readiness and modernization efforts will be impacted without the funds.
Without the supplemental funding from Congress, the Pentagon has only reimbursed $50 million to 84 companies to date, according to two senior Pentagon officials in joint written testimony to the Senate Armed Services Committee.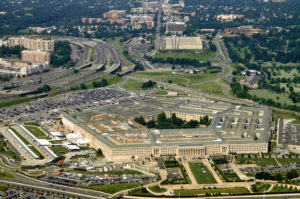 "With an appropriation, the department could reimburse these costs and maintain our readiness levels and planned modernization efforts in support of the National Defense Strategy. Without an appropriation, the department would need to absorb these COVID-related costs through reductions in planned modernization programs and reduced readiness levels," Stacy Cummings, acting top acquisition official, and Robert Salesses, performing the duties of assistant secretary of defense for homeland defense and global security, wrote in their joint testimony.
The CARES Act from last spring included the Section 3610 authority establishing a reimbursement program to help cover the defense industrial base's efforts to keep workers employed, but did not include appropriated funds to cover the costs.
Ellen Lord, who left as the Pentagon's top acquisition official at the end of the Trump administration, repeatedly urged Congress to help with paying the likely billions of dollars in pandemic-related claims from industry that she also said could cause impacts to readiness and modernization if the department had to use only its own dollars for the costs.
The officials said the department estimates industry's paid leave costs under Section 3610 to be around $4.25 billion, as of December.
"In addition to paid leave costs under Section 3610, industry has incurred and will continue to incur other COVID-19-related costs. The Department has issued extensive guidance to enable reimbursement, to include a checklist designed to reimburse these costs. If the Department receives a supplemental appropriation for these costs, we would prefer to negotiate settlements with major defense contractors at a corporate level to avoid opening individual contracts, which may result in higher costs and significant administrative burden," Cummings and Salesses wrote.
These additional COVID-related costs, which would cover items such as personal protective equipment, cleaning and sterilization costs and reconfiguration of facilities for safety reasons, are estimated at an additional $6.5 billion, according to the officials.
The most recent pandemic relief package included a provision extending the deadline for defense contractors to submit pandemic-related claims for reimbursement through the end of March 2021 (Defense Daily, Dec. 21).
A group of defense contractors and industry associations have urged Congress to extend the Section 3610 authority through the end of fiscal year 2021 (Defense Daily, Dec. 11).