The House Armed Services Committee on Wednesday voted 42 to 17 to boost the topline of its version of the next defense policy bill by $37 billion.
The panel debated the topline increase amendment during its markup of the fiscal year 2023 National Defense Authorization Act, which was still ongoing as of Defense Daily
's deadline, with much of the discussion focusing on the provision's move to reverse the planned retirement of five Littoral Combat Ships (LCS).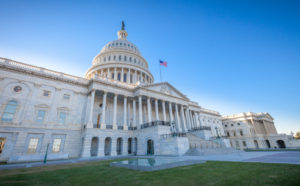 "The amendment funds critically-needed priorities from our service chiefs and combatant commanders that were left unfunded by the president's budget," Rep. Mike Rogers (R-Ala.), the HASC ranking member, said during the markup. "Most importantly this amendment ensures we have the resources necessary to counter the growing threat from China and our other adversaries."
Rep. Jared Golden (D-Maine) proposed the amendment, which supports $7.4 billion for dealing with inflation impacts, $550 million more for the Ukraine Security Assistance Initiative, $660 million to procure eight additional F/A-18s and $3.5 billion to build five additional ships, including one DDG, one FFG, one T-AO oiler and two more Expeditionary Medical Ships (Defense Daily, June 21).
Ultimately, 14 of the panel's Democrats joined all Republicans in voting in favor of the spending increase, including Reps. Jim Langevin (D-R.I.), Joe Courtney (D-Conn.), Donald Norcross (D-N.J.), Ruben Gallego (D-Ariz.), Anthony Brown (D-Md.), Elissa Slotkin (D-Mich.), Mikie Sherrill (D-N.J.), Golden, Elaine Luria (D-Va.), Joseph Morelle (D-N.Y.), Kai Kahele (D-Hawaii), Marc Veasey (D-Texas), Stephanie Murphy (D-Fla.), and Steven Horsford (D-Nev.).
The increase will lift HASC's NDAA topline to $839.4 billion, still below the Senate Armed Services Committee's $847 billion version of the bill, which it voted 23 to 3 advance last week after adopting its own $45 billion topline increase (Defense Daily, June 16).
"I applaud the Senate for their addition of $45 billion. I know we have slightly different priorities and throughout this process I hope we will end up with an agreement somewhere north of this $37 [billion]. But I think adding this to the budget, at least for me, makes this NDAA acceptable in its overall topline," Luria said during her remarks in support of the amendment.
Luria also voiced her support for the bolstered spending on shipbuilding authorized in the amendment, to include reversing the planned retirements of the five LCS vessels.
"I think, myself, like many of us in this room were quite disappointed when we saw the budget that sought to decommission 24 ships and only build eight, and that's just one example of the shortfalls within this budget," Luria said. "It's a time to grow our military, not shrink our military. I think this $37 billion is a start."
Rep. Jackie Speier (D-Calif.) pushed back on the LCS restoration, adding she "strongly objects" to the plan to spend tens of millions of dollars annually to sustain the Freedom-class ships that have "been plagued by reliability issues."
"We all know what lemon cars are. We have a fleet of lemon LCS ships. We have spent billions of dollars on this fleet when they have no capability to help us deal with what our largest threat is, which is that of China and Russia. The only winners have been the contractors on which the Navy relies for sustaining these ships," Speier said. "This is ridiculous and it is shameful that we are restoring five of these decommissioned ships into service when all we're going to do is spend money towing them back to port."
Rep. Adam Smith, the HASC chair, announced his opposition to the topline increase amendment prior to the start of the markup, while noting he believes there are "many good things" supported with the increase but adding "ultimately, I think it's too much."
"I've said many times. I care as much about how the money is spent as I do about how much is spent. And I think making sure that the Pentagon has some fiscal discipline and is forced to make tough decisions and not just always rely on another pot of money coming along is crucial to modernization. And I think this number is higher than it needs to be and I will oppose the amendment," Smith said.
Smith also noted that he plans to offer an amendment regarding the reversal of the planned retirement of the five LCS vessels when the House takes up floor debate of the NDAA.
Sherrill told the panel "she supports this amendment reluctantly" with the Pentagon's failure to achieve a clean audit, while Rep. Sara Jacobs (D-Calif.) said she opposed the move and voiced concern that it takes the wrong approach to inflation concerns and lessons learned from Ukraine.
"It's wild that at the same time Republicans are complaining about runaway inflation that we would increase federal spending in reckless way on things DoD itself has said it doesn't need," Jacobs said. "And I've heard a lot of my colleagues talk about Ukraine. I think the real lesson of Ukraine is that what we need is cheaper, more survivable, easily distributed weapons, not large and expensive legacy platforms such as tanks and capital ships. I associate myself with the remarks of the chairman that quantity does not equal quality."
Smith told reporters last week while he supports the president's requested defense topline that he expects Congress will ultimately increase defense spending for FY '23 by a significant amount (Defense Daily, June 15).