The House Appropriations Committee voted 32 to 26 on Wednesday to approve its $761.7 billion fiscal year 2023 defense spending bill.
Following Wednesday's full committee markup, the bill now heads for full consideration by the lower chamber.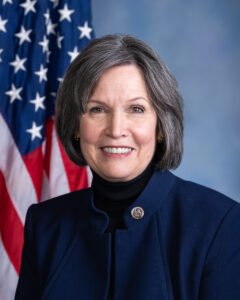 "The Fiscal Year 2023 Defense Appropriations bill is a responsible investment in our national security that will keep our nation strong and the American people safe," Rep. Betty McCollum (D-Minn.), chair of the House Appropriations Defense Subcommittee, said in a statement.
No amendments were adopted during Wednesday's markup that resulted in significant funding adjustments, while the panel did approve two measures from Rep. Barbara Lee (D-Calif.) to repeal the 2001 and 2002 Authorization for Use of Military Force resolutions.
The defense spending bill represents a $32 billion increase over the enacted FY '22 spending level but will likely face continued opposition from Republicans who have called for larger defense budget growth over inflation (Defense Daily, June 14).
The Senate Armed Services Committee has already adopted a $45 billion increase over the president's requested defense topline in its version of the National Defense Authorization Act, while the House Armed Services Committee voted to support a $37 billion topline increase during its NDAA markup on Wednesday.
When factoring in the House Appropriations Committee's separate $15.1 billion military construction proposal, the spending legislation is in line with the Biden administration's call for a $773 billion Pentagon topline for FY '23.
Overall, the House Appropriations Committee's bill calls for $143.9 billion for defense procurement efforts, a nearly $1 billion cut below the budget request, and $131.7 billion for research, development, test and evaluation, with the funding boost representing a $12.5 billion increase over the FY '22 enacted level.
The bill fully funds many of the major procurement requests to include $7.2 billion for 61 F-35s, $2.7 billion for 15 KC-46 tankers, $430.5 million for five KC-130Js and $686 million for over 1,500 Joint Light Tactical Vehicles.
The bill would also appropriate $27.8 billion for Navy shipbuilding, covering "two DDG-51 guided missile destroyers, two SSN-774 attack submarines, one Frigate, one T-AO Fleet Oiler, one towing, salvage, and rescue ship, and one LPD Flight II amphibious transport dock," according to the bill.
The Senate Appropriations Committee has yet to release details of its FY '23 defense spending legislation.