The Senate Appropriations Committee on Thursday released its plan to spend $850 million on defense-related programs in fiscal year 2023, to include $792.1 billion for the Pentagon, while the proposal received pushed back from the panel's Republican leadership.
Sen. Patrick Leahy (D-Vt.), the Senate's top appropriator, urged the upper chamber to take quick action on the total $1.7 trillion, 12-bill FY '23 appropriations package, which represents an increase over the president's budget request for $813.3 billion for national defense programs and $773 billion for DoD.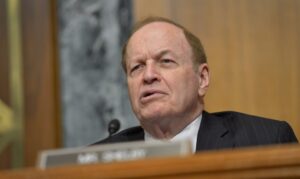 "It is my hope that by releasing these bills, and making clear what the priorities of Senate Democrats are, we can take a step closer toward reaching a bipartisan compromise after months of stalled negotiations. The stakes of inaction are too high to not complete our work. The burden of inflation would make a long-term continuing resolution untenable with grave consequences for communities and families across the country and for our national security. It is my goal to finish our work before the end of the 117th Congress to avoid these consequences," Leahy said in a statement.
Sen. Richard Shelby (R-Ala.), the committee's vice chairman, voiced strong opposition to the package citing the lack of parity in increases between defense and non-defense spending and the inclusion of "a number of provisions that are non-starters for Republicans," including policies related to abortion and climate concerns.
"Here we go again. Like last year, Senate Democrats have unveiled partisan appropriations bills that spend billions more than even the Administration's wasteful request. These drafts fail to appropriately allocate resources to our national defense, remove important legacy riders that enjoyed broad, bipartisan support just four months ago, and are filled with poison pills," Shelby said in a statement. "Wasteful, off-budget spending that fuels inflation will be a non-starter. Today's effort shows we have a long way to go. Democrats need to get serious or, regrettably, I believe we will end up with a long-term CR."
The $1.7 trillion package includes $653 billion in non-defense discretionary spending, which is a 10.1 percent increase over the FY '22 enacted level, whereas defense spending received an 8.7 percent increase over the current spending level.
Shelby specifically noted his concern that the proposal falls "nearly $10 billion short" of the topline figure authorized in the Senate Armed Services Committee's (SASC) version of the next National Defense Authorization Act.
SASC advanced its FY '23 NDAA out of committee with a 23 to 3 vote in June, after adding a $45 billion topline increase during markup (Defense Daily, June 16).
The Senate Appropriations' defense bill includes $134.6 billion for research and development programs and $156.7 billion for procurement, an $11.7 billion increase of the budget request.
The panel noted the proposal specifically includes $53 billion to address inflation impacts and an additional $10 billion for price escalation considerations, to include $5 billion for fuel.
Lawmakers also highlighted the bill's inclusion of $2.2 billion to accelerate development and fielding of resilient space capabilities, $1.4 billion to expand industrial base capacity, and $4.7 billion to upgrade degrading and outdated infrastructure.
The House Appropriations Committee previously voted 32 to 26 in June to approve its $761.7 billion FY '23 defense spending bill (Defense Daily, June 22).