Senate appropriators have proposed a more than $1.4 billion increase for Army procurement in fiscal year 2023, while including a $350 million cut for the planned buy of Integrated Visual Augmentation System (IVAS) headsets.
The Senate Appropriations Committee's (SAC) $792.1 billion defense spending bill, released Thursday, would instead add $50 million for IVAS research and development to work on maturing the next version of the headset and restore $300 million for procurement of Enhanced Night Vision Goggles-Binocular (ENVG-B).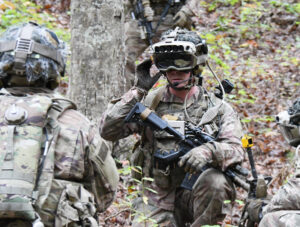 "The committee remains concerned that IVAS continues to face software, hardware, and user-acceptance challenges that the Army has not sufficiently addressed," lawmakers wrote in an explanatory statement accompanying the bill. "While the committee was encouraged by the department of the Army's 2021 decision to extend testing and evaluation for an additional 10 months, it notes that significant development challenges with IVAS 1.1 remain."
The Army had requested $400 million for IVAS procurement in FY '23, with the SAC proposal retaining $50 million after the cut and the panel noting the capability "has the potential to improve soldier battlefield capabilities and represents an important step in the Department of Defense's efforts to engage with non-traditional defense contractors capable of delivering innovative capabilities that meet warfighter requirements."
Last March, the Army awarded Microsoft [MSFT] a deal worth up to $21.9 billion over the next 10 years to move the IVAS augmented reality headset program from rapid prototyping into production (Defense Daily, March 31 2021).
The Senate Appropriations Committee's move on IVAS follows House appropriators decision to cut the full $400 million for IVAS procurement in its version of the FY '23 defense spending bill, withholding the funds while the service waits to conclude its operational evaluation of the new headset (Defense Daily, June 21).
Doug Bush, the Army's top acquisition official, told Defense Daily earlier this month that early analysis of data collected from the IOT&E for IVAS is showing "positive signs" of improvements with the capability (Defense Daily, July 12).
After the Army requested no funding in its FY '23 budget request for procurement of ENVG-B night vision devices, built by L3Harris Technologies [LHX] and Elbit Systems of America, both SAC and the Senate Armed Services Committee have now moved to restore funding for the program in the service's "night vision devices" account within their respective spending and defense policy bills.
Army Under Secretary Gabe Camarillo told reporters last week it's "too early to say" whether the service considers IVAS as the replacement for ENVG-B, and noted the service is currently working through a future night vision strategy (Defense Daily, July 25).
Senate appropriators, however, included increases across a handful of Army procurement programs, to include restoring $350 million for 12 MQ–1C Gray Eagle Extended Range for the National Guard and adding $200 million above the budget request for five more CH-47F Chinook Block IIs, covering a total of 11 of the heavy-lift helicopters.
The panel also boosted procurement of BAE Systems' new Armored Multi-Purpose Vehicles (APMVs) by $400 million, covering a total of 131 AMPVs for $780.7 million, and added an additional $219.9 million and $602 million, respectively, for upgrades to Stryker vehicles and Abrams tanks.
The defense spending proposal also adds $200 million for procurement of additional Family of Medium and Heavy Tactical Vehicle trucks.