The House on Thursday voted to pass a $280 billion bill package that includes $52.7 billion to bolster domestic semiconductor manufacturing capacity and $200 billion for science and technology efforts aimed at improving competition with China, sending the bill to President Biden's desk for final signature.
The lower chamber voted 243-187-1 in favor of the CHIPS and Science Act, which included the support of 24 Republican members.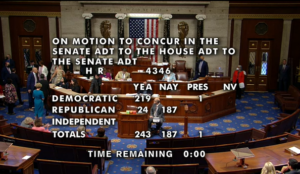 Thursday's vote followed the Senate's 64 to 33 vote on Wednesday to approve the bill package, with Senate Majority Leader Chuck Schumer (D-N.Y.) having led much of the effort for Congress to take action on what he called "one of the largest investments in science, technology, and manufacturing in decades" (Defense Daily, July 27).
House GOP leadership had initially signaled it would not whip against the bill, but that decision was reversed on Wednesday evening in light of Senate Democrats' announcement that a deal had been struck with Sen. Joe Manchin (D-W.Va.) on a reconciliation bill that includes provisions related to climate and energy concerns.
Ultimately, the change did not impact the bill's chances in the House with Republican Reps. Jim Baird (R-Ind.), Troy Balderson (R-Ohio), Mike Carey (R-Ohio), Steve Chabot (R-Ohio), Liz Cheney (R-Wyo.), Tom Cole (R-Okla.), Rodney Davis (R-Ill.), Brian Fitzpatrick (R-Pa.), Mike Garcia (R-Calif.), Bob Gibbs (R-Ohio), Anthony Gonzalez (R-Ohio), Kay Granger (R-Texas), Trey Hollingsworth (R-Ind.), Chris Jacobs (R-N.Y.), Bill Johnson (R-Ohio), Dave Joyce (R-Ohio), John Katko (R-N.Y.), Young Kim (R-Calif.), Adam Kinzinger (R-Ill.), Michael McCaul (R-Texas), David McKinley (R-W.Va.), Peter Meijer (R-Mich.), Michael Turner (R-Ohio) and Fred Upton (R-Mich.) voting in favor of the legislation.
All Democrats voted in favor of the bill package, while the one 'present' vote was cast by Rep. Sara Jacobs (D-Calif.).
Senior Pentagon leaders over the last several months have urged action on the legislation, which has taken many forms over the last couple years, to help address semiconductor shortage challenges and ensure the department has access to the microelectronics required for major capabilities.
The $52.7 billion in the "CHIPS" portion of the legislative package specifically includes $39 billion to expand and improve domestic semiconductor manufacturing capacity, covering $19 billion in fiscal year 2022 of which $2 billion would go toward legacy chip production, followed by $5 billion annually from FY '23 to '26.
The bill also includes $2 billion for chip production related to DoD-unique requirements, $11 billion for microelectronics research and development and steps to bolster the workforce and a 25 percent investment tax credit covering manufacturing of semiconductors and associated equipment in the U.S.
The $200 billion for science and technology initiatives includes $81 billion for the National Science Foundation, $10 billion for the Department of Commerce to go toward establishing regional technology hubs and $68 billion for Department of Energy efforts.