Senate Democrats on Monday detailed their proposed $3.5 trillion budget resolution, which includes calling for a total $765.7 billion fiscal year 2022 defense budget and one to two percent defense spending increases in the coming years.
The defense topline figures outlined in the proposal, which would be non-binding, includes the Pentagon's budget and funds for weapon programs at the Department of Energy, with the FY '22 figure essentially matching the White House's request for $753 billion when factoring for both discretionary and mandatory spending.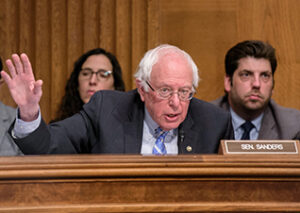 "The $3.5 trillion budget resolution that I am introducing today will allow the Senate to move forward on a reconciliation bill that will be the most consequential piece of legislation for working people, the elderly, the children, the sick and the poor since FDR and the New Deal of the 1930s," Sen. Bernie Sanders (I-Vt.), the chairman of the Budget Committee, said in a statement.
The proposal calls for around two percent increases to defense spending over the next five fiscal years and then one percent increases in the following five fiscal years through FY '31, where lawmakers have marked out an $880.2 billion budget.
GOP lawmakers are likely to push back on the budget resolution for falling below repeated calls to grow defense spending by three to five annually in order they say will be required to stay ahead of countries such as China.
Last week, Senate Minority Leader Mitch McConnell (R-Ky.) and Sen. Richard Shelby (R-Ala.), the top GOP member on the Senate Appropriations Committee, said any progress on reaching a full FY '22 spending deal will stall out if the Pentagon does not receive a boost to the requested budget topline and called for parity with non-defense funding increases (Defense Daily, Aug. 4).
Sanders noted the Senate will need to pass the budget through reconciliation, requiring the support of all 50 Democratic members plus Vice President Kamala Harris as the tie-breaking vote. In the House, Democrats also have a very narrow majority they will need to secure to see through an eventual budget package.
"Let's be clear: This is not a new idea. When Republicans controlled the Senate they used reconciliation to pass trillions of dollars in tax breaks to the top one percent and large corporations," Sanders said. "Today, with Democrats in control of the Senate, we will use reconciliation to benefit the working class, not the billionaire class."