The U.S. Navy and Japan Self-Defense Force are undertaking the computer-based Resilient Shield 2021 missile defense exercise from Feb. 22-26 in Japan, the Navy said Feb. 22.
Resilient Shield is an annual "computer-based Fleet Synthetic Training-Joint" (FST-J) exercise focused on ballistic missile defense, the Navy said. It aims to test U.S. naval tactics, techniques and procedures (TTPs) against potential regional threats like North Korea while also ensuring both U.S. and Japanese military forces are "well-rehearsed" in executing the TTPs.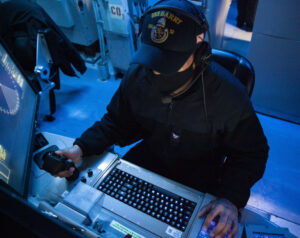 This year's edition is particularly focused on maintaining and improving integrated operational capabilities of the Japan Maritime Self-Defense Force, Air Self-Defense Force, and joint U.S. forces throughout the missile defense exercise.
"Resilient Shield serves to enhance cooperation and further integrate the unmatched missile defense capabilities of Japan and the United States. This exercise will hone our tactical and operational skill to defeat the most stressing missile defense contingencies in the INDOPACOM region," Capt. Leslie Sobol, director of 7th Fleet Task Force Integrated Air and Missile Defense, said in a statement.
"Resilient Shield provides U.S. and Japanese watch-standers a unique opportunity to refine theater BMD tactics, techniques and procedures and build bilateral capabilities essential to regional missile defense," Cmdr. Jeremy Carlson, commanding officer, USS Benfold (DDG-65), added.
More than 77 U.S. and Japan commands are taking part in Resilient Shield. The exercise is taking place at command centers including 7th Fleet headquarter Yokosuka, Japan and others.