The Aerospace Industry Association and executives from 80 defense companies have signed a letter urging congressional leadership to provide the Pentagon with supplemental funding to help the department pay billions of dollars in industry's pandemic-related claims. 
The letter was sent Tuesday to both House and Senate leadership as Congress readies its next COVID-19 relief package, and calls for lawmakers to appropriate funding for a previous emergency bill provision that authorized reimbursements for unanticipated costs.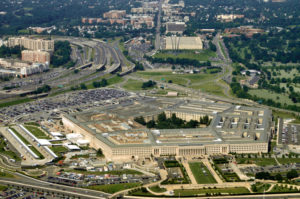 "As you know, the [CARES Act] did not appropriate funds for those reimbursements. This situation creates a problematic burden on our defense industrial base and a difficult choice for the Department of Defense," the letter's signees wrote. "Absorbing the magnitude of the Department's estimated costs without appropriations would threaten recent improvements to readiness, jeopardize critical defense sector jobs which have helped stabilize communities across the country during the pandemic, and further erode the domestic supply base."
Ellen Lord, the Pentagon's top acquisition official, has previously told lawmakers that she expects industry's pandemic-related claims to total in the "low double digits of billions of dollars" (Defense Daily, June 10). 
"As the Senate begins to consider the next COVID-19 response bill, and later in conference with the House, we urge you to include an appropriate level of funding for these reimbursements and respectfully request your support of the Department of Defense's request for emergency funding," executives wrote in the letter.
The letter's signees included the CEOs of Huntington Ingalls Industries [HII], BAE Systems, Lockheed Martin [LMT], Boeing [BA], L3Harris [LHX], Leidos [LDOS], GE Aviation [GE], Textron [TXT], Booz Allen Hamilton [BAH] and ManTech [MANT].
The companies are also calling for the deadline to place pandemic claims to be extended from Sept. 30 to the end of December. 
A similar letter was also sent to the leaders of the congressional defense committees.
The leadership of the Senate Armed Services Committee have previously offered their support for the Pentagon's call to receive congressional help with industry's COVID costs (Defense Daily, June 11).
However, Rep. Adam Smith (D-Wash.), the chairman of the House Armed Services Committee, said he opposes supplemental funding and added the Pentagon should be able to cover the reimbursements with the emergency funding from the previous coronavirus relief package. Smith said the department had yet to allocate half of the $10 billion that it received in the bill (Defense Daily, June 30). 
Politico first reported news of AIA and the defense industry executives' letter to Congress.