The Missile Defense Agency (MDA) awarded Boeing [BA] a $150 million undefinitized contract modification on July 10 for its Ground-based Midcourse Defense (GMD) development and sustainment contract (DSC) to maintain work and buy more interceptor boost vehicles.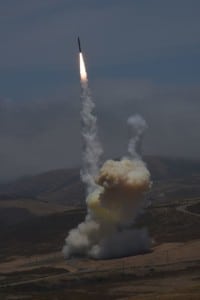 The announcement noted the modification encompasses the "development, fielding, test, systems engineering, integration and configuration management, equipment manufacturing and refurbishment, training and operations and sustainment for the Ground-based Midcourse Defense weapon system and associated support facilities."
Notably, the modification has MDA execute the procurement of four more Configuration 2 (C2) Ground Based Interceptor (GBI) boost vehicles "to maintain the fleet and flight test programs."
The C2 provides the exoatmospheric kill vehicle the thrust to leave the atmosphere and engage targets. Like the legacy C1 vehicle, it features a three-stage booster but has improved reliability, hardware, avionics, and onboard software.
This modification increases the total value of the overall contract, with options, from $11.337 billion to $11.487 billion. The work will occur in Chandley, Ariz., and has a period of performance lasting from July 10, 2020 through July 30, 2023.
The Defense Department noted the acquisition was executed on a sole-source basis. $72 million in fiscal year 2020 procurement funds was obligated at the time of award.
In early 2018, MDA awarded Boeing a $6.56 billion modification to its previous contract to extend the GMD DSC for six years, through December 2023 (Defense Daily, Feb. 12, 2018).
At the time, the Defense Department said that earlier modification, including options, would more than double the total DSC to $12.64 billion.