The Army has awarded General Dynamics [GD] a $249 million deal to deliver ground robots for the Small Multipurpose Equipment Transport program, the second attempt at a contract after the first deal was terminated following a successful protest.
GD was also the original winner of the SMET contract last fall with its Multi-Utility Tactical Transport vehicles, with plans in place to begin delivering the robotic systems in 2021.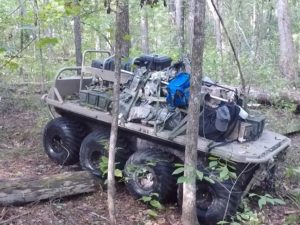 The initial contract with GD was terminated in December after Textron filed a protest claiming GD significantly altered its design following a soldier evaluation during the OTA period.
Army officials restarted the competition in February and sent new Request for Proposals to the four original competitors; GD, Polaris [PII], HDT Expeditionary Systems and Textron's [TXT] Howe & Howe.
The Pentagon's contracts announcement on Wednesday evening indicated that only three bids were received for the new competition.
The Army has said it intends for the SMET ground robots to carry up payloads of up to 1,000 pounds, or about nine soldiers' worth of equipment, as well traveling up to 60 miles over the course of 72 hours.